The Port of Nhava Sheva lies on the east of the Port of Mumbai about six nautical miles away across the Thane Creek. It is also commonly known as the Jawaharlal Nehru Port as it is run by the Jawaharlal Nehru Port Trust. It is known to be the busiest port in India and deals with almost half of the country's imports and exports. The Port of Nhava Sheva and the Port of Mumbai have a common entry channel that stretches about 21 kilometres (33.9 miles) and at a depth of 10.1 to 11 metres (33 to 36 feet). There is an easy hinterland connection to Mumbai, its surrounding area and most parts of North India.
The Port of Nhava Sheva was commissioned in 1989, as a satellite port to relieve the Port of Mumbai from heavy congestion. As a small port in its early years, it only had single terminals for bulk cargos and containers. But now as India's busiest container port, it also handles liquid and dry bulk cargo. In the financial year 2018, it processed 4.83 million TEUs (66mt of cargo) which was a 7.4% increase from 4.5 million TEUs (62.15mt of cargo) in 2017. The terminals of the port are jointly managed by the government and other private firms. 
The history behind the success of Nhava Sheva
When JNPT initiated operations at Nhava Sheva, shipping lines were reluctant to move their business to the new port as they were comfortable at the Mumbai Port. Gopalakrishnan, who is a Traffic Manager at the Visakhapatnam Port shares his anecdote on how things turned around for JNPT. Around the same year, the Mumbai Port was facing congestion due to the India Maritime Week. 15 vessels were waiting to find a berth, followed by the 16th vessel from Dubai to drop import boxes. The captain realized it will take a month to discharge and the consignee required the cargo immediately. 
Communication started flowing asking for permission to unload at Nhava Sheva. Although Mumbai Customs refused to permit as it would mean a revenue loss for them, they reluctantly agreed after much negotiation. The vessel then discharged at JNPT and made its journey back to Dubai, where it loaded fresh cargo again and came back to the Port of Mumbai. Questions were asked as to how this happened when the other vessels were still waiting and slowly but surely shipping lines started moving their business to Nhava Sheva port. Nhava Sheva now ranks 32 on the world's top 100 container terminals.
| | | | |
| --- | --- | --- | --- |
| Name: | Nhava Sheva Port | Port Code: | INNAV |
| Port Authority: | Jawaharlal Nehru Port Trust | Latitude: | 18.9499° N |
| Address: | Navi Mumbai, Maharashtra 400702, India | Longitude: | 72.9512° E |

Container Terminals at the Nhava Sheva Port
As of 2019, there are 5 terminals at the Nhava Sheva Port and 4 of them are privately managed. The port-owned terminal is the Jawaharlal Nehru Container Terminal (JNCT), DP World runs the Nhava Sheva (India) Gateway Terminal (NSIGT) and Nhava Sheva International Container Terminal (NSICT), APM Gateway Terminals India Pvt Ltd is run jointly by AP Moller-Maersk and the Container Corporation of India. The 5th terminal inaugurated in February 2018 is PSA International's Bharat Mumbai Container Terminals (BMCT).
Name of the Terminal
Terminal Owner 
Quay Length
Throughput
 
Installed Capacity
 
Capacity Utilisation
Jawaharlal Nehru Container Terminal (JNCT)
Port-owned
680m
1,481,768 TEU
1,500,000 TEU
98.78%
Gateway Terminal (NSIGT)
DP World
330m
659,000 TEU
800,000 TEU
82.38 %
Nhava Sheva International Container Terminal (NSICT)
DP World
600m
641,122 TEU
1,200,000 TEU
53.43 %
APM Gateway Terminals India Pvt Ltd
AP Moller-Maersk and Concor
712m
2,027,896 TEU
1,800,000 TEU
112.66%
Bharat Mumbai Container Terminals (BMCT)
PSA International
1000m
23,212 TEU
2,400,000 TEU
09.97%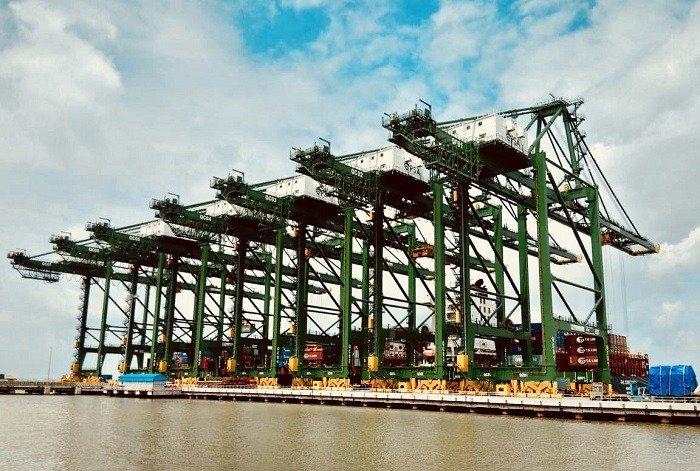 Hi

nterland Connection
JNPT transports 27% of the cargo via Railway lines and roads take up 73% of the cargo. Despite this volume, the hinterland connection is not as good as it should be for the Nhava Sheva port. An investment of ₹3000 crores (27 million euros) has been made to improve the hinterland connection. JNPT is connected with its hinterland through its existing 45 km 4-lane road which is expected to be turned into 10 lanes in the next 5 years. 
The cargo transported from JNPT by railways can be transported via 2 railway corridors, the Northern Corridor or the North-Western Corridor. The Northern corridor goes up to Ludhiana, passing through major cities such as Vadodara and Delhi. The North-Western corridor goes up to Rewari through cities such as Ahmedabad and Jaipur. 
Introducing JNPT SEZ
JNPT SEZ is a multi-product SEZ that was created as an extension of Nhava Sheva port. It encompasses an area of 277 hectares and lies just 5kms away from Nhava Sheva. This project aims in improving export-oriented industries by giving them state-of-the-art infrastructure. It shows the potential for easy access to raw materials, access to multi-modal transport and thereby access to international markets. The multi-modal transport access includes the New Mumbai airport (under construction), DFS rail corridor and the link to the Trans-harbour road.
JNPT has special planning authority at the SEZ. The SEZ will have 15MLD of water supplied from a reservoir nearby, 45MVA of uninterrupted power supply, industrial infrastructure such as sewage treatment system, solid waste treatment system, firefighting facilities, training centres, and telecommunication centres, all of which make it a 'Smart SEZ'. The SEZ is auctioning 300 acres of land close to the port, available only to manufacturing companies. As of February 2019, 16 companies have already bought 75 acres of land. The bidding process is expected to be closed in March 2020. This is done in the hope that it will contribute to economic growth and create more jobs. 
Operational Insights and Potential Partners
Many of the container suppliers and users run their one-way transactions on Container xChange and transact in Nhava Sheva. Some of the users who use Nhava Sheva as their pick-up and drop-off locations are:
Sarjak is an NVOCC operating in the ODC/OOG area and mostly using Flat rack and Open-top containers.
Oceanbox Containers based on Cyprus and Malta provides containers to NVOCCs, freight forwarders who have extended their operations to Nhava Sheva through xChange.
Indus Container Lines is an NVOCC with a fleet of 2000 owned and leased serving all the gateway ports and commercial hubs in India.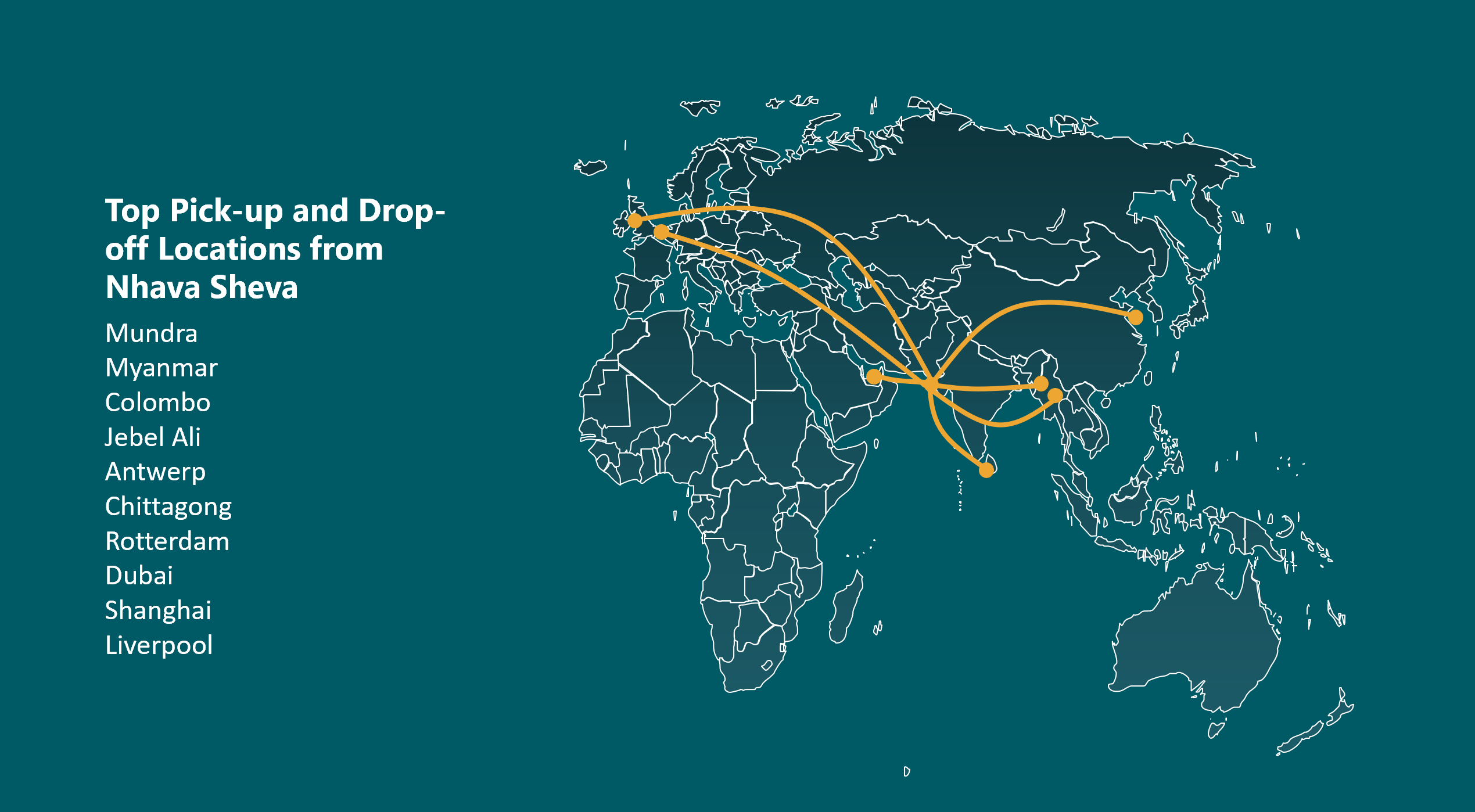 Container xChange provides transparency to more than 300 container owners and users. They type in their locations and get a list of potential partners within seconds. Our one-way online platform facilitates the whole deal from negotiation, tracking, payment handling and integrated third-party services such as container insurance or container surveying.