Find SOC Containers, reduce manual workflow and grow your network in container logistics. Check availability now:
SOC Containers with only a few clicks
No more operational hassle! Move more equipment at lower rates and in less time, avoid demurrage & detention charges and get access to over 1 million containers from 300+ partners online.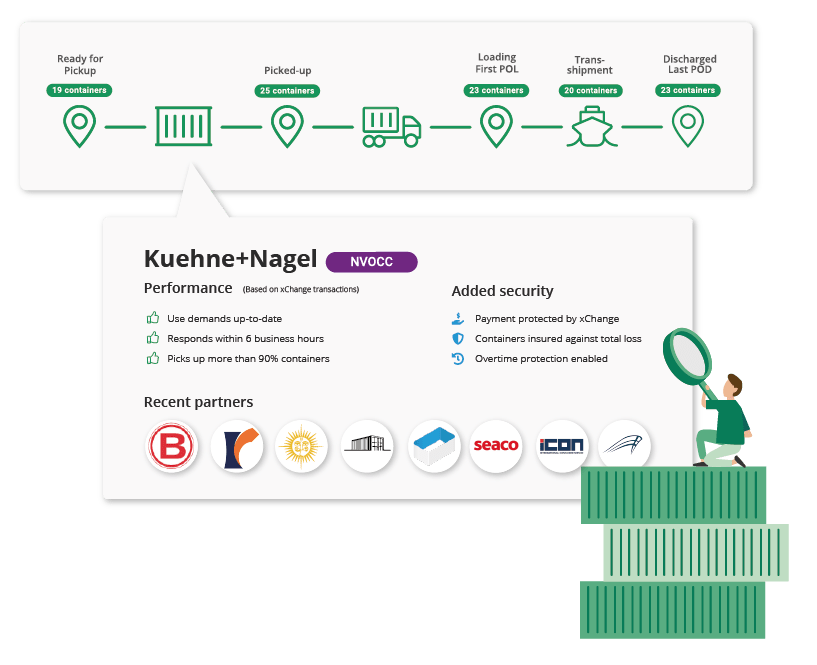 Gain instant market transparency! Type in your pick-up and drop-off locations and choose the equipment type to find available SOC containers and trustworthy partners in more than 2500 locations within seconds.
Managing SOCs can finally be fun! Adjust the deal terms such as free days, per diem charges or pick-up credits, use the chat to negotiate with your partner and add insurance or container surveying without sending dozens of emails back and forth.
Automate the operational handling
xChanges saves you the time-consuming, error-prone manual work when managing SOC containers and frees up your resources. Whether it be payment handling or container tracking, the platform automates these tasks for you and only sends notifications when something has to be done.
Join 400+ certified companies 
Forwarders, NVOs and container traders like you, buy, sell and lease containers on xChange. Learn more about them on their company profiles.
Type in a company name to browse through our member list:
Let us show you how 300+ members (from small businesses to enterprise) are seeing value with xChange, 100% free and no credit card required.