Your Online Platform for Container Logistics
Find SOC Containers, avoid demurrage & detention and move more containers at lower rates. Try our live search below:
Join 300+ freight forwarders, NVOs and container owners such as:
SOC Containers with only a few clicks
No more operational hassle! Move more equipment at lower rates and in less time, avoid demurrage & detention charges and get access to over 1 million containers from 300+ partners online.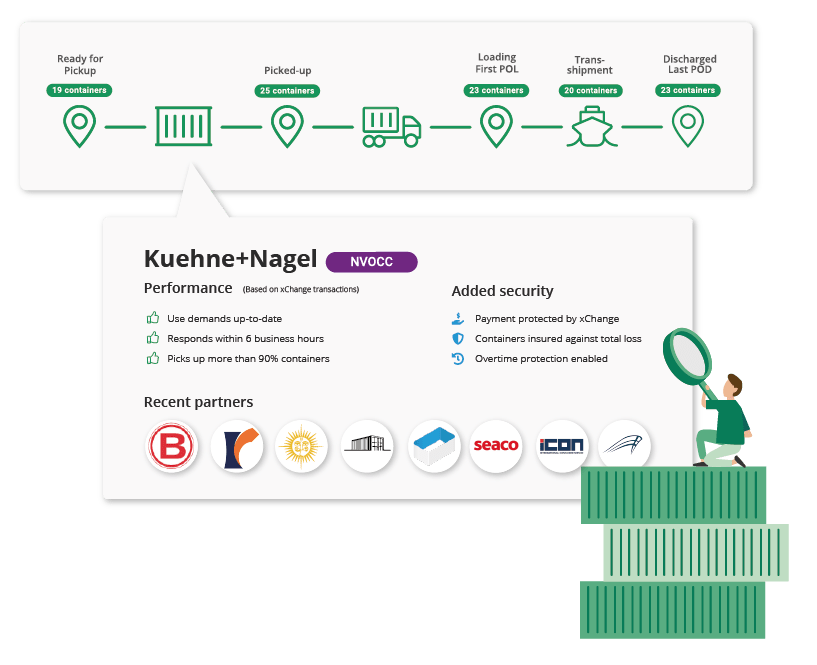 Gain instant market transparency! Type in your pick-up and drop-off locations and choose the equipment type to find available SOC containers and trustworthy partners in more than 2500 locations within seconds. >>> Click here to search for potential partners
Managing SOCs can finally be fun! Adjust the deal terms such as free days, per diem charges or pick-up credits, use the chat to negotiate with your partner and add insurance or container surveying to the deal without sending dozens of emails back and forth to get deals done.
Automate the operational handling
xChanges saves you the time-consuming, error-prone manual work when managing SOC containers and frees up your resources. Whether it be payment handling or container tracking, the platform automates these tasks for you and only sends notifications when something has to be done.
How our members use xChange
300+ forwarders, NVOs and container owners use xChange on a daily basis.
"We're having all our one-way containers run through xChange including total loss insurance."
"xChange helps us find hundreds of global one-way partners to balance our inventories."
"During the few months that we have used xChange, we have saved more than 40,000 EUR."
"The hassle free sourcing of new equipment allows us to move more containers in less time!"
For Container Owners
Oceanbox decreased their customer response time from weeks to minutes using xChange
For Container Users
How VMR Lines turns speed into their biggest advantage finding equipment on xChange
Let us show you why our members love the platform and join +300 forwarders, NVOs and container owners on xChange now.