Container terminals went through a phase of rapid change in the last five years as costs decreased and productivity increases through automation while the costs decreased, and productivity increased due to automation. Container terminal automation brought an entirely new level of consistency and reliability with container handling and reduced carbon dioxide by 10% emissions. Recent surveys confirm that trend: Over 60% of respondent terminal operators expect automation to help improve operational control and consistency, while 58% expect automation to cut terminal operational costs
Automation is still a huge challenge for port and terminal operators! While the technological movement is still in an early stage, one of the first fully-automated terminals has begun operating in Australia and more growth is anticipated in the future. Terminals are moving slower compared to industries with a similar level of complexity – even though automation has already lead to decreased costs of up to 40% in the warehousing business and other related logistics sectors.
Container terminal automation is crucial for 75% of the terminal operators to stay competitive in the next 5 years, but the main question remains: How can terminals benefit from automation and how does it impact your processes as a shipper/ shipping line?
What is a Container Terminal?

Container terminal stands for an area designated for the stowage of cargoes in shipping containers, usually accessible by truck, rail and marine transportation. In this area, containers are picked up and dropped off, maintained and housed.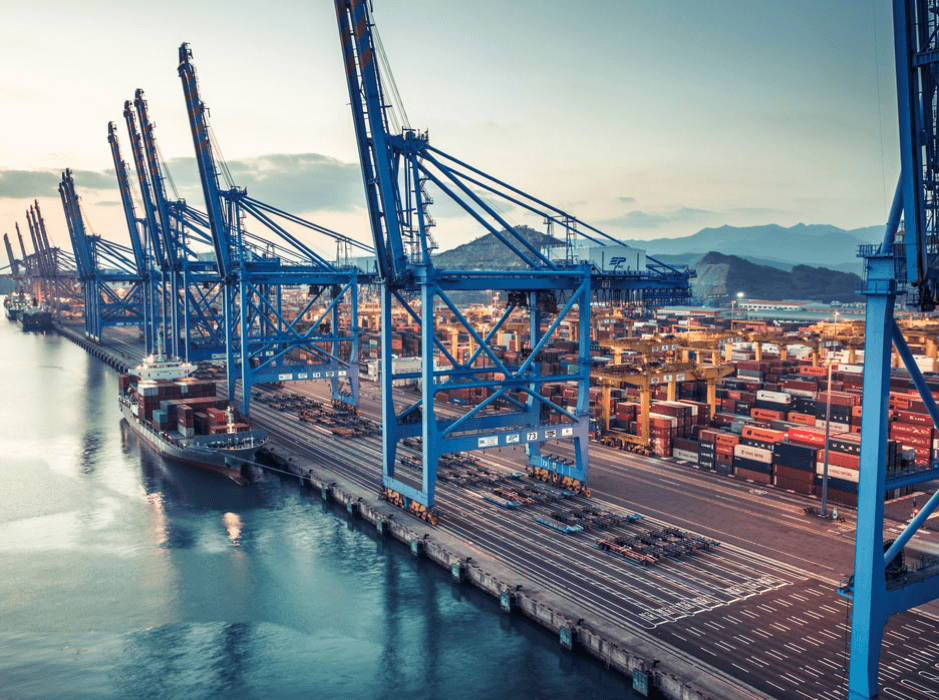 Classified with respect to their ownership between ports, operators, shipping lines and carriers, the container terminals around the world are divided into five categories:
State-run terminals, where facilities are shared equally among shipping lines
Carrier-Lease dedicated terminals for which major shipping lines sign long-term contracts with port authorities for using their terminals exclusively
Terminals built and operation terminals where operators invest directly in the construction, operation and handling facilities of the terminal and deposits handling charges
Carrier – built and operation terminals, shipping lines operate a terminal by making a deposit to the port authorities
Joint venturing of the carriers and terminal operators In this type of contract, an agreement is made between the shipping lines and the terminal operators thereby establishing a company.
Automated Container Terminal Processes 

When a ship arrives at the port, quay cranes take the containers out off the ship, afterward the quay cranes transfer the containers from the ship deck to the Vehicles. In case of loading the cranes collect the containers from the ground or straight from the vehicle to the vessel. The vehicles travel between the ship and the stack. The stack consists of some lanes, so containers can be stored there for a small amount of time. The cranes or the straddle carriers serve the lanes. Instead of the straddle carrier dedicated automated guided vehicles (AGVs) are used in order to transfer the containers.  If a vehicle arrives at the stack, it puts the load down or the stack crane takes the container off the vehicle and stores it in the stack. After a certain period, the containers are retrieved from the stack by cranes and transported by vehicles to transportation modes like barges, deep sea ships, trucks or trains. To load export containers onto a ship, these processes are also executed in reverse order. Most of the terminals still make use of manned equipment such as straddle carriers, cranes and multi-trailer-systems.
Some terminals like this one in the port of Rotterdam are semi-automated, in such cases, Automated Guided Vehicles are used for the container transportation and transportation is done by automated stacking cranes to increase safety and fast processes.
How do AGVs work? The automated guided vehicles are developed for handling 20', 40' and 45' containers on main port container terminals. The technology behind the automated vehicles is unparalleled very fast the transporters can transport containers that are up to 70 tonnes and up to 45 feet long between the quay and the storage facility, they drive forwards, backwards, sideways. On straight sections, they achieve a speed of six meters per second (close to 22 kilometers per hour). Specially developed software and transponders placed on the floor of the port terminal ensure collision-free fleet control. But the main characteristic of the automated guided vehicles is that they are battery powered and do not need a driver. 
What is automation and how can container terminals benefit from it
 "Automation is the technology by which a process or procedure is performed with minimal human assistance. Automation is the use of various control systems for operating equipment such as machinery, processes in factories etc. and ranges from simple on-off control to multi-variable high-level algorithms (Source: Wikipedia).
Container terminals have certain features such as high standardization, high number of interchanges and a high impact of technology that confer them the ability to reach a much higher level of automation that other types of freight terminals
Container terminal automation comes with five basic components that can create value by implementing each component individually but will be most effective when all five are integrated and coordinated.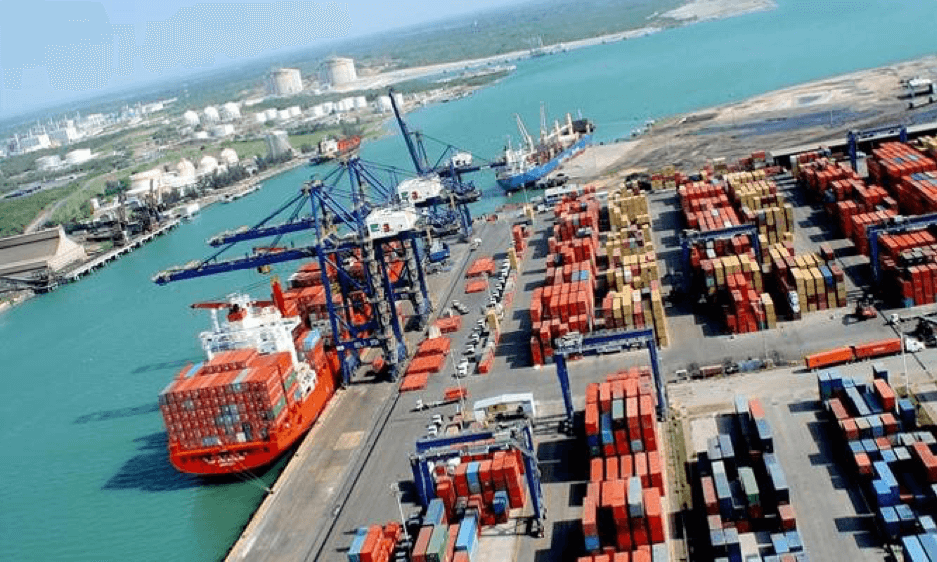 Automated equipment such as cranes, vehicles and the control systems typically require large up-front capital investments across functions such as ship to shore, yard operations, ground transportations and gate automation. The technology is relatively stable and mature and has already been implemented successfully at some terminals. It makes operations run more consistently even where low factor costs make automation hard to justify.
Equipment-control systems are processes that make machines and operations smoother and provide valuable insights for decision making. Integration of those systems is still hard, and the lack of standardization adds complexity. First ports have already installed gate-operating software to automate operations and identify and route shipping containers and trucks automatically.
A Terminal control tower is the brain and the most important part of the automated container terminal. It coordinates and optimizes the management of the entire terminal, handles demand forecasting, workflow management, scheduling, monitoring and control. All these through advanced analytics, a digital platform and machine learning.
Last but not least there are human-machine interactions and interactions with the port community that take many different forms and exchange data between the different shareholders for efficient collaboration among liners, service providers, consignees, customs and the terminal itself.
Benefits for Container Terminals 
Container terminal automation consists in the use of mechanic, hydraulic, electric, electronic and computerized elements for controlling the equipment and the processes to reduce the number of humans getting involved. So, the first long term advantage is associated with economic and financial profitability.
Secondly, automation reduces uncertainty and avoids human-made errors to reduce operational costs and increase safety. Another benefit of automated terminals is the contribution to environmental sustainability in many different ways, for example through optimizing route planning and avoiding empty runs from AGVs.
Last but not least the major advantage in the operational performance. Automated terminals are more efficient and allow an optimize usage of quay and yard densities as well as the operating space in general.
Container terminal automation today
The first automated container port was developed in Europe in the early 1990s in the Netherlands, Rotterdam. Since then, many ports—more than 20 in the past six years—have installed equipment to automate at least some of the processes in their terminals. Almost 40 partly or fully automated ports now do business in various regions of the world, and the best estimates suggest that at least $10 billion has been invested in such projects. The momentum will probably accelerate: Despite a slow start, automation of container terminal handling and transport systems is now taking off and an additional $10-15bn is expected until 2024.
More than 1,100 driverless cranes are in operation worldwide today in container yards and are fast becoming a standard product. Automated Guided Vehicles (AGVs) however, have been deployed and proven for horizontal transport at several facilities and Automated Shuttle Carrier (AShC) technology is also now being adopted. For instance, automated straddle carrier terminals with driverless straddle carriers, like these ones in the biggest port of Australia.
One more example is the Qingdao Container terminal this is the first fully automated terminal in Asia that handles more than 5.2 million TEUs and serves 24000 containerships every year. This terminal accompanied with seven ship-to-shore cranes, 38 automated stacking cranes, and 38 automated guided vehicles that are controlled from a tower nearby. The most popular automated container terminal is obviously Shanghai's port. This is a massive new fully-automated port terminal that can ship up to 136 million tonnes around the world every year.
Instead of an army of workers, the container terminal is getting operations done by 26 bridge cranes, 130 auto-guided vehicles, and 120 rail-mounted gantry cranes controlled from one room. The automated terminal not only increases the port's handling efficiency, but also reduces carbon emissions by up to 10 % annually.
Container Terminal Automation tomorrow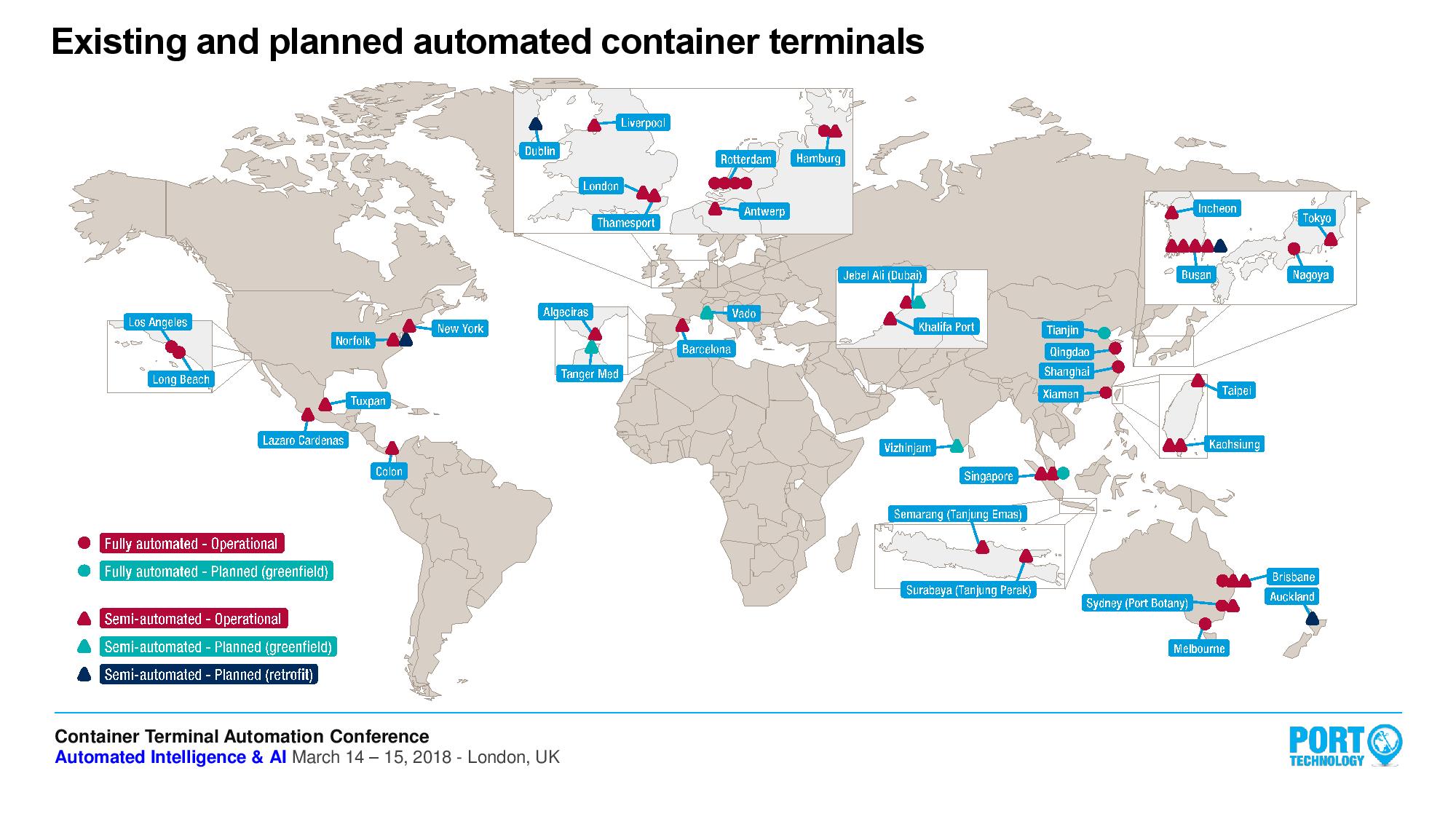 Automation has become an obligation for container terminals. Eight out of ten senior managers arguing that during the next five years more than half of greenfield ports will be semi or fully automated. Moreover, 6 out of ten seniors managers said that very soon, more than 50% of the top 50 ports in the world will add automated equipment.
Give the technological advances in ocean freight over the past two decades, terminals have yet to fully jump on this journey of automation and chat up soon or risk being rendered completely obsolete. Automation expected to cut expenses by 25 to 55 percent and productivity is up for a raise by 10 to 35 percent. The time is now to start and form project teams, build or use technologies, test and implement to keep up with terminals such as Shanghai that already operate almost fully automated.
Challenges for ports and terminals
We divide challenges into two parts: at operational and at planning stage. During planning, it is important to overcome resistance when facing investments in innovation, because the port sector is usually reluctant to risk. Secondly, trade unions are especially powerful in port, meaning that automation can only be introduced after reaching agreements with them or when job positions are not at risk.
On an operation stage, challenges include the lack of information, a loss of flexibility in planning, high maintenance requirements and the interaction of many systems that increases the probability of making errors.
But you as a shipper or a shipping line, you can only benefit from container terminal automation. Increased efficiency will help you save time and avoid Demurrage & Detention fees and work more closely together with every stakeholder to optimize your transport processes. That's where Container xChange comes in place, we help you identify partners for one-way moves and SOC Containers that will increase your flexibility even though not every terminal is fully automated yet.