Compulsory container markings must be used on all containers visible on the door. Each of those markings plays a significant role in transportation and is important for the monitoring and general safety of a container. Let's have a look at each of these container markings individually to get an idea what they mean.

Compulsory container markings
(1) The container number is the most important and complex marking on the door and is a unique alpha-numeric sequence of four letters and seven numbers to identify containers internationally. It is assigned by the classification agency ISO under their code ISO6346:1995(E).
– Owner prefix first three capital letters, in this case, CBC = Container Brokerage Company or for example MAE for Maersk) which must be unique and registered with the Bureau International des Containers et du Transport Intermodal (BIC) to avoid duplicates. You can always do a BIC search to identify the owner of a container here. But beware, the owner of the container must not necessarily operate it as they could have leased to container to another shipping line or operator.
– Equipment category identifier which is "U" for this container and stands for freight containers. Other categories are J – detachable freight containers related equipment and Z – trailers and chassis. Together with the owner code, the category can be grouped under one term, known as an alpha prefix.
– The serial number or registration number (200031) consists of six digits and is left to the owner to decide on.
(2) The last number of the container number is placed out of the rest of the numbers on the right side and is called check digit. Although it seems insignificant, it is of vital importance as it determines whether the entire ID is valid or not. When the unique BIC code and the 6-digit serial number is types into the BIC Check Digit Calculator it displays the Check digit which validates the container.
(3) Each container is given a unique ISO code by the BIC in order to avoid problems in naming the container. Why? Because a 20ft. standard container for example is called dry van, general purpose or dry container in different countries. In our case, 22G1 means it is a 20' container 8'6'' high with a tare weight of 2250 kilograms.
The first character represents the length, the second character represents width and height and the third character is an identifier for container type and other characteristics. The 4th position is a new type of container code that indicates a container of reduced strength.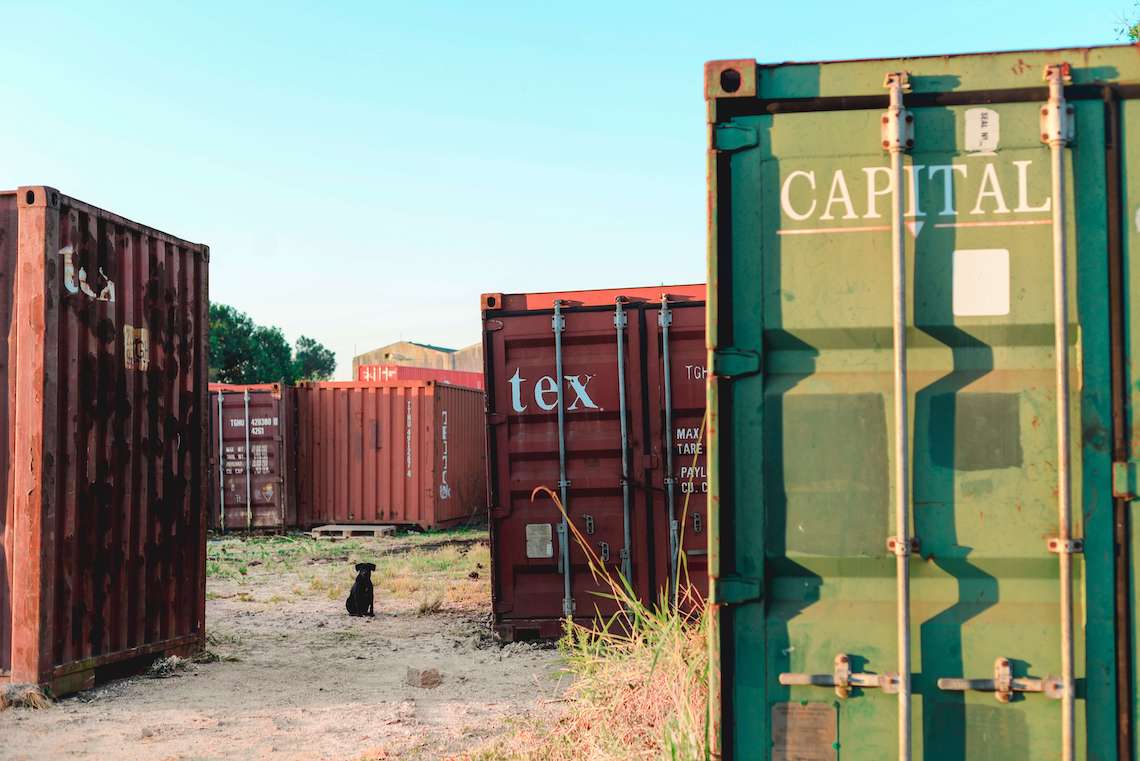 (4) The container can carry a maximum weight of 30,480 kilograms inclusive its own weight of 2,180 kilograms.
(5) The tare weight of a container is the actual weight of an empty container and 2,180 kilograms in this case. It is given by the manufacturer and needs to be considered for every ship operator to avoid planning issues and disasters at sea.
(6) Is the max weight that can be packed (= max. payload) and the difference between (4) Maximum weight and (5) tare weight. In our case you could load the container with 28,300 kilograms of cargo. Thats the weight shown on the bill of lading and it does not include the tare weight.
(7) Cube – Max. volume that can be packed in cubic capacity and it is of course not possible to over pack the container by volume.
(8) Every container used for international transport needs to have a valid CSC plate to ensure good condition for safety reasons. It contains for instance manufacturing data and information about the equipment owner … we explain everything related to CSC plates for shipping containers in a separate article.
(9) A container has to be operated either under an ACEP or a PES (Periodic Examination Scheme) from day 1. The fist inspections isn't required until 5 years, but it must have a scheme in place in order to be operated. Without a valid ACEP sticker or Next Examination Date (under the PES), the container should not be loaded onboard a ship.
Mandatory markings
Mandatory operational markings are intended to convey information requested for the movement of containers and to provide visual warnings for the weight of containers, overhead electrical danger and for containers higher than 2,6m.
Most of the container markings are on the front door of a shipping container, but the Identification number (BIC Code + serial number + check digit) and the Size and type code are also displayed on both sides and the front end visible for crane operators, transporters, authorities and fork lift operators.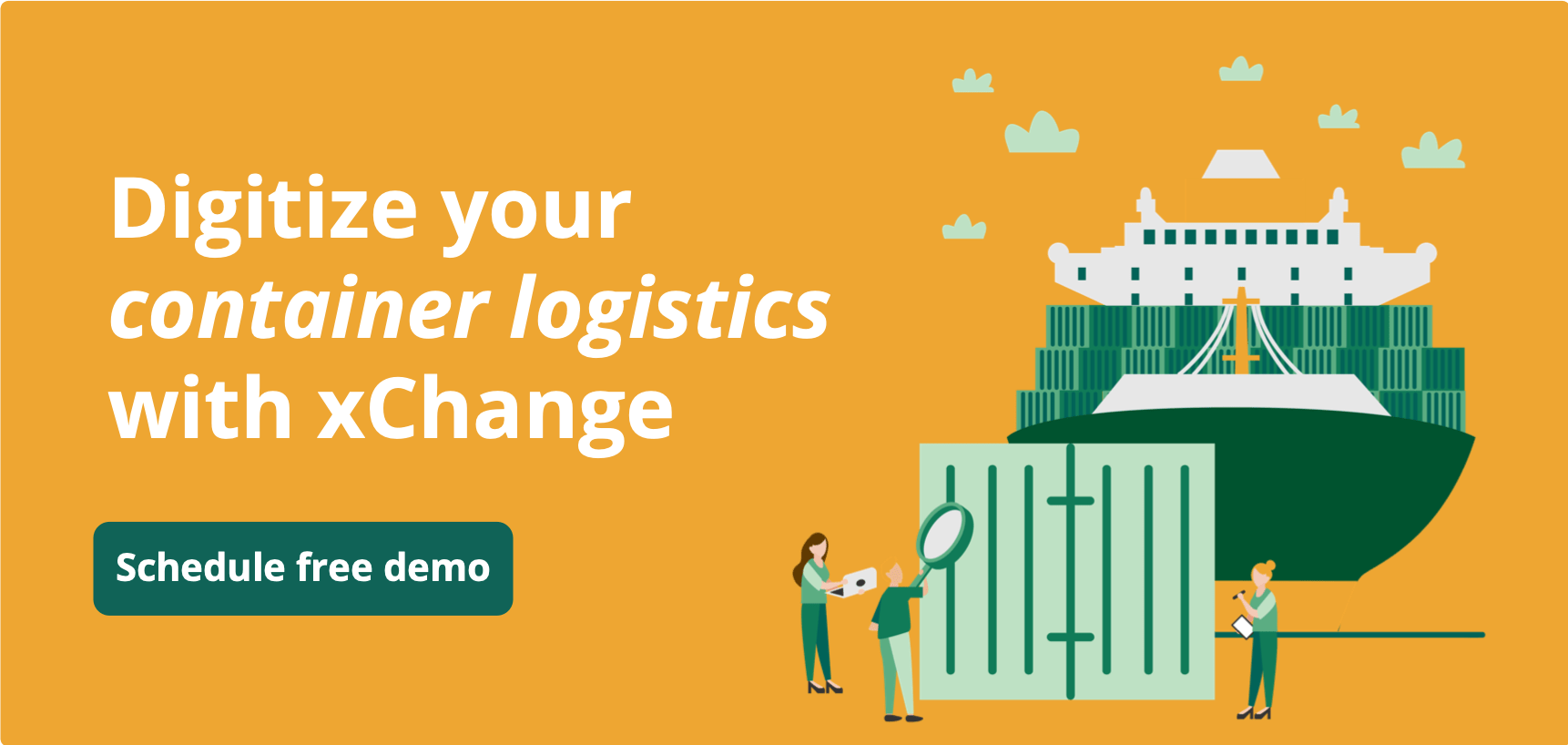 Related Posts
Summary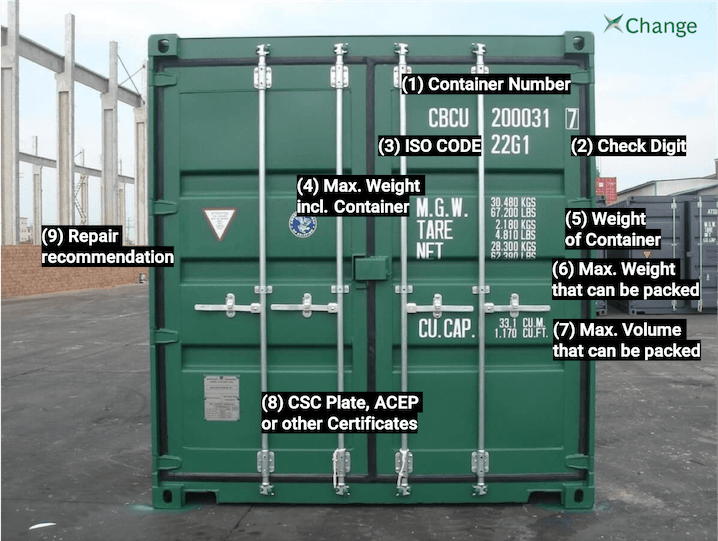 Article Name
Container Markings - What do they really mean
Description
Compulsory container markings must be used on all containers visible on the door. Each of those markings plays a significant role in the transportation and is important for the monitoring and general safety of a container.
Author
Publisher Name
Publisher Logo