"When sustainability is viewed as being a matter of survival for your business, you have the potential to create a massive change."
Holds so true, doesn't it? Sustainability has to be a way of life. That's the only chance we have. And with more businesses turning green, how can the shipping industry not? The latest regulations by the IMO and the European Green Deal (EGD) is a step forward towards this. And a leap further would be transforming normal shipping ports into 'sustainable ports'.
"Why", you may ask? We answer: "Read on!"
How Bad is the Situation?
In short, bad. Really really bad. So much so, that sustainability is the ONLY option we have. Else it's all a downward spiral. Now onto the statistics:
The shipping industry has never been this relevant where it accounts for almost 90% of the international trade. A key link in the world economy, this increased trade also means more pressure on the available resources, more so, its implications on the environment.
The shipping industry:
burns the world's dirtiest fuel.

emits 3% of the greenhouse gases.

responsible for >18% of some air pollutants.

accounts for 20% of marine litter.

discharges 34% of the ship garbage into the sea.
(including ballast water, sewage, chemicals, leftovers, oils)
It is causing air, water, noise and light pollution. The environmental footprint of the shipping industry is bad. But the good news is, it can be controlled – by having a more sustainable approach and integrating it in each link of the shipping supply chain network, including the machinery and infrastructure and the hub of the shipping network, i.e. ports.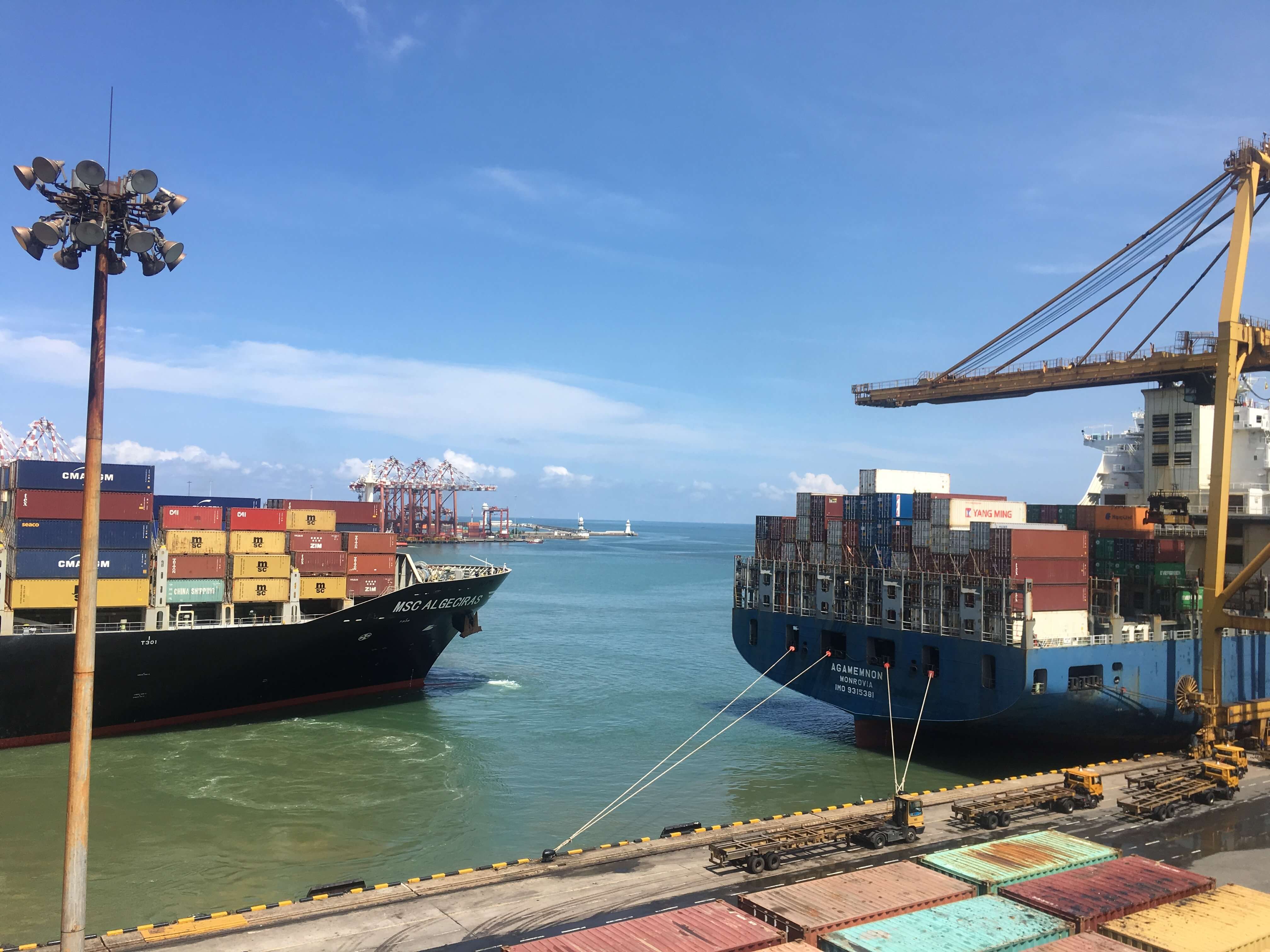 How can Ports become more Sustainable?
Ports are the nodal points in the shipping supply chain network. Thus, making them sustainable would have a domino effect on the entire industry. Here's how you can make the ports more environment-sustainable:
Provide alternate sources of energy to docked ships
The 'bunker fuel' is the world's dirtiest fuel. Ports can modify its infrastructure to provide cleaner fuel or energy alternatives to the ships, helping reduce the GHG emissions. This has already been mandated by the latest IMO regulations.

Another way is the onshore power supply (OPS), where docked ships can shut off their engines and ports have the facility to provide 'electrical' energy (sourced from renewable resources) to power them for dock-side requirements.
Utilize IoT and Big Data for efficient decision making and logistics management
Ports can make use of big data and predictive analysis to schedule the arrival/departure of vessels for just-in-time (JIT) arrival – enhancing the overall port efficiency.
This would help manage congestion on the ports by avoiding ship idling and preventing them from using up excess power on ports. It would also save ship fuel (by controlled ship speed), hence cutting down emissions.

Adopting IoT, automation and smart technology would help reduce the carbon footprint massively by better asset management and port operations.
Improve waste disposal facilities
Ports can modify their infrastructure to manage and dispose of the waste better without harming the sea or the environment.

Ballast water, chemical and ship waste can be pre-treated before being dumped into the sea. Rainwater can be harvested and stored for cleaning purposes and other activities on ports.
Upgrade port equipment
Machinery like cranes, forklifts, trucks, etc. uses fuels like diesel, adding on to the pollution at the ports. They can be upgraded to use cleaner fuels with low emissions.
Reduce noise and light pollution by small changes
This one is especially for ports near residential areas. Ports can issue regulations to limit the use of bright lights at night and restrict the time that ships can idle at the port to reduce noise by the engines. This would also bring down congestion and thus, air pollution.

Setting long-term goals would help accelerate decisions towards a more sustainable future. Now is the best time. And some ports around the world are already leading by example.
Sustainable Port: Full-throttle Examples
The Ports at Singapore, Taiwan, and Hong Kong

have automated their ports almost completely leading to 43% increased efficiency (as compared to North American ports) in unloading cargo. The Port of Rotterdam (The Netherlands) is handled by software and workers can control the cranes remotely.

The Port of San Diego (U.S.)

was one of the first ports to become energy efficient in 2014 by collaborating with public, and private stakeholders and initiated energy efficient programs. It was the first port to adopt the Climate Action Plan (CAP), providing long-term strategic vision for the 'Green Port Program'. Their efforts have reduced more than 56,000 metric tonnes of GHG emissions.

The Port of Algeciras Bay Authority (Spain)

is driving a program called Algeciras BrainPort 2020 (ABP 2020), working towards a new port management model for enhanced efficiency, security and sustainability using digitization. It focuses on infrastructure and port frameworks, and consequently, improving synergies among the whole port and logistics community.

The Port of Hamburg (Germany)

is setting standards for green, sustainable port solutions. It harmonizes economic objectives and ecological concerns. Ship mooring spaces are equipped with land power connections. And it is already using sulfur-free fuels leading to reduced emissions.

The Port of Krishnapatnam (India)

has created an ecosystem to tackle climate change by modifying port operations through planned infrastructure, having a customer-centric business model, conducting yearly tree plantation drives, and structured water and sewage management systems that help control emissions and reduce pollution.
Multiple projects are underway at leading ports around the world like Rotterdam, Antwerp, and Los Angeles to optimize vessel port calls and incorporating standardized approaches to data and its usage.
Conclusion: Sustainable Ports Now or Never
"The key to understanding the future is one word: sustainability."
Without environmental sustainability, economic stability cannot be achieved. Ports are the main hubs in the shipping network, regulating every operation. Thus, it is even more important for these points of departure to become sustainable in their approach.
Sustainability should not be viewed as a regulation, but a way of business and life. This is an industry completely based on the biggest natural resource, the sea. So, as an industry, more than a mere regulation, we must take care of what is sustaining us and our business.
It is now or never. The choice is yours!

If you're interested in sustainable solutions for container logistics Container xChange might interesting for you. With us, you can find or put up empty containers and use them to ship commodities. This way, we can all save emissions on empty containers being repositioned and wasting both time, money and emissions!
Click on the banner below and schedule a demo to see what xChange can do for you.