There is a variety of shipping container sizes with diverse dimensions suitable for different purposes. In the 1950s, Malcom McLean initiated the history of container shipping by inventing the container. This was done in an attempt to improve profitability, efficiency and optimize the loading time of container shipping.
His invention was standardized in 1970 as a result of ISO regulations in an attempt to streamline the industry. ISO regulations dictated that the 20 feet container and 40 feet container now were industry standards. Since put into use, these containers have been widely used to ship goods on the international seas, but what are the dimensions of these containers?

Different sizes and types of shipping containers
Containers come in many different types, dimensions and sizes, here follows the standard container dimensions.
Container 20ft dimension:
The 20 feet container, in short 20 ft container, is 6.06 m/20 ft long x 2.60 m/8 ft 6 in high x 2.44 m/8 ft wide on the outside. Because of the durable steel construction, the container dimensions are a bit smaller on the inside, measuring 5.9 m/19 ft 4 in length x 2.39 m/7 ft 10 in height x 2.35 m/7 ft 9 in width. 20ft shipping container weight: Approx. 2000 kg/4409 lbs.
Container 40ft dimension:
The 40 feet container, in short 40 ft container, measures 12.2 m/40 ft in length x 2.60 m/8 ft 6 in in height x 2.44 m/8 ft in width. Also, the 40 ft container is smaller inside, being 12.03 m/39 ft 5 in long x 2.39 m/7 ft 10 in high x 2.35 m/7 ft 9 in wide. 40ft shipping container weight: approx. 3500 kg/7717 lbs.
Different types of special equipment
At xChange, we have extended our platform to not just include the standardized equipment, but also allowing suppliers and users to exchange special equipment of many kinds. This extends our reach and use cases, to the benefit of our users. The following will now explain the special equipment you are able to request and supply on our online one-way platform for SOC containers:

Dry container: The containers used for general purposes, being wind and watertight, ensuring that the cargo will arrive in good shape.

Reefer: Is short for refrigerated container, which are containers that are refrigerated to ensure the freshness of the cargo carried. They are often used for flowers, food or fruit.

Double door: A container of this kind has doors in both ends, why it is also referred to as a tunnel container, tunneltainer, or double enders container. The major benefit of using this kind of container is the increased accessibility, as goods can be loaded from both ends. This shortens the loading time, particularly when the container needs to carry many smaller packages. Also, the container can have a partition in the middle, making one container into two smaller.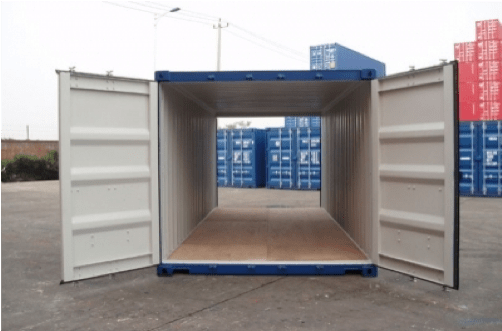 Open top: This is a container without ceiling, often used for oversized cargo that is too tall to fit in a closed container. Hence, it is often used to carry special and unusual cargo. Use cases are often various machinery, construction materials or similar.

Pallet wide: These are containers are slightly wider than standard containers, making them ideal for transportation of euro-pallet goods. As seen, this kind of container is made to measure exactly two euro-pallets in width. In comparison, the standard container is only able to carry one.
Flatrack: Containers without sides and top, making them suitable for special cargo, such heavy loads or oversize cargo that cannot be loaded in a single standard container.

Side door: Instead of having doors in the end, this type has doors on one of the sides, allowing the cargo to be easier arranged in order to maximize and optimize capacity.

Hard top: The major difference between this type and a standard container, is the steel roof that is removable and doors that can be swiveled out, making the loading and unloading process easier.

High cubes: High cubes, in short HC, refers to containers that are similar in structure to normal containers, just taller. This enables them to meet more cargo demands. The following picture shows the height difference between HC and standard containers.
Container 45 ft dimension:

Being a bit more specialized, the 45 ft container is made as a response to the demand of containers with larger capacities and space for larger cargo. Usually, 45 ft containers are high cubes. The dimensions of a container this kind are 13.7 m/45 ft in length x 2.9 m/9 ft 6 in in height x 2.43 m/8 ft in width on the outside. In the same manner as the standardized containers, the inside, being a bit smaller, measures 13,6 m/44 ft 6in x 2,7 m/8 ft 10 in x  2,4 m/7 ft 11 in.
Here at xChange, we provide our you with containers to fulfill your every need – whether you wish to cut your costs by supplying or using SOC containers. We pursue to equalize the surplus and deficits of containers happening globally by working in more than 2500 locations, providing you with a transparent network of more than 200 NVOCCs, carriers, freight forwarders, traders and leasing companies to simplify and optimize the process.
In this manner, we have already moved more than 300.000 containers – should the next move be yours? Find SOC containers for your next move on xChange.