Rail Freight transportation might be cost-efficient and environmentally friendlier. But it has some major disadvantages too. What are they? In this blog, we will discuss rail freight and meet some of the companies. 
Rail freight transport is the usage of railroads and trains to transport cargo on land. It can be used for transporting various kinds of goods all, or some of the way between the shipper and the intended destination. A few examples of cargo that rails transport are: Agriculture, automotive, chemicals, raw construction material, energy (coal, oil, wind turbines), forest productions.
Freight trains can haul bulk cargo, standardized shipping containers, or specially designed cars for a specific type of freight. 
There is a 1.1 million km line of railroads worldwide. America takes the biggest share out of this – 32%. Then comes Asia with 30%, Europe – 24%. 
The statistics from last year show that rail freight traffic has a growing tendency worldwide, with an exception of Africa. Only in 2019, goods travelled approximately 3.1 billion tonne-kilometres by rail in Europe and Turkey. This number was almost 3.5 billion tonne-kilometres in Asia/Oceania and the Middle East. 
Rail freight is much faster than the ocean freight. It is more expensive than sea freight but cheaper than air freight. Moving goods by train is perfect for high-value industrial products such as vehicles, electronics and computer equipment, as well as promotional equipment that must reach their final destination as quickly as possible.
Rail freight can be one of the most efficient means of transportation if we consider energy consumption, as well. Precisely, six times lower than the road. Especially, when the cargo is hauled over long distances. Moreover, there are fewer incidents on the railroads, than on the road.
Complications of rail transport
However, rail shipments are not as flexible as a road. Railways always end at some point. So then, goods are transferred from one shipper to another at an intermediate port. This process is called transhipment and it often involves extra costs and time.
Another point, that complicates the rail transportation is the gauge of the railway track. So far there is not one, internationally adopted gauge size, that every country uses in railway construction. Gauges can be divided into 4 broad categories by width: 
| | |
| --- | --- |
| Broad Gauge | 1676 mm to 1524 mm or 5'6" to 5'0" |
| Standard Gauge | 1435 mm and 1451 mm or 4'-8⅟2" |
| Metre Gauge | 1067 mm, 1000 mm and 915 mm or 3'-6", 3'-33/8" and 3'-0" |
| Narrow Gauge | 762 mm and 610 mm or 2'-6" and 2'-0" |
Broader gauges are more expensive to build, but they can handle heavier and faster traffic. It is not always the cost that affects the choice of gauge, though. Sometimes it's simply the geography – for mountainous landscapes narrow gauge is more suitable. And that is the main reason why many important railways, covering thousands of kilometres, are laid with narrow gauge.
What kind of gauges do countries use?
On this map, you can see the gauge which is currently most used in each country. The main colour represents the most used and small squares on top of the main colour are other type of gauges also found in these countries. Grey indicates no railways.
So, because of such various reasons, nowadays trucks transport most of the freight on the land. But with the containerization rail industry tries to minimize these costs and maximize the economy.
Containerization of rail freight 
Majority of the cargo transported by rail is handled as bulk cargo – transported unpackaged in large quantities. This kind of cargo can be dropped, poured, or shovelled into the railroad car. But since the introduction of the shipping standardized containers, rail freight transportation has also adapted to it. 
Standard containers: ISO regulations dictated that the 20 feet and 40 feet container types are now industry standards. Use of the same size of containers internationally has helped the rail freight transportation with incompatible rail gauge sizes. This used to make transhipment between countries difficult. Shipping containers can be loaded and unloaded from the rail transportation flatcars without being opened, which makes the transhipment also faster. 
Read more about the standard and special container types in our blog. 
Double stack containers: to put it simply, double-stack containerization means putting two shipping containers on top of each other. This way special railroad cars – called well cars, can carry almost twice as much cargo. 
It was first introduced in North American and it is still more common in that part of the world. Since the limitations of container weights, as well as train weight and length, are different in Europe, it is hard to implement this technology. In most cases, European loading and structure gauges are not compatible with double stacking.
However, by using the technology railroad carriers in the US and Australia significantly reduce costs per container. This is how it looks.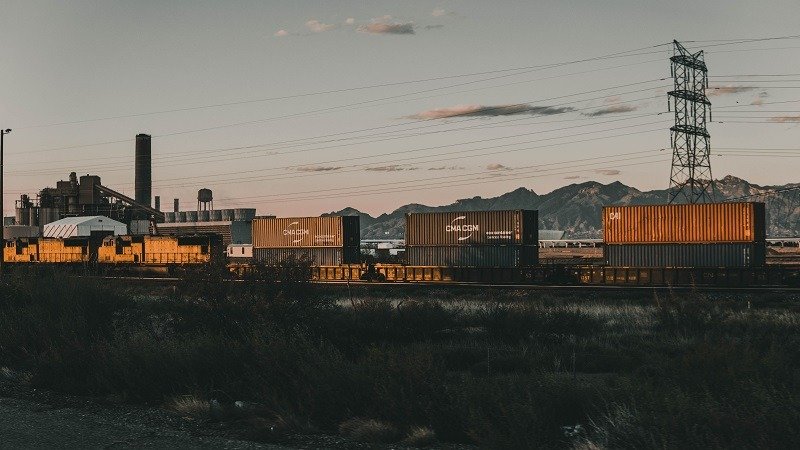 "Piggie-back": as we all know, railroads always end at some point. And on the contrary, there are railways to the destinations, where trucks can't reach. To tackle these issues, a form of combined transportation – rolling highway, or piggie-back service was created. This means that trucks can drive onto a railroad flatcar and drive off when the train reaches the endpoint. Piggyback trains are again more used in the US. But we can also see the system in Europe, in Channel Tunnel between the United Kingdom and France, or in the Alps, for the transit routes.
Rail freight in Europe is going strong 
The role of the rail freight industry depends a lot on the geography and historical importance of its usage. The level of connectivity also varies regionally. Rail freight transportation is more advanced in the US, around Europe and Asia, while the African continent states are the least developed. 
With the largest rail freight market in Europe, Germany is transporting roughly 120 billion tonne-kilometres of freight annually. It is followed by Poland and France. 
The EU actively supports rail freight developments through funding projects. Because after all, rail is a sustainable means of transportation. Only in 2019 European Commission invested over €117 million in 39 key transport projects that were aimed to build missing connections across the continent. The projects will "reduce the noise generated by freight trains, develop and improve cross-border railway links and upgrade crucial infrastructure in ports". 
The new expansion of high-speed rail in the Baltics
The Baltics, as one of the geographically strategic regions for European and Eurasian railroad traffic, is taking upon another challenge. The 870-kilometre-long high-speed Rail Baltica project will comprise an important stretch of high-speed rail in Europe – with over 94 kilometres located in Latvia. The railway is estimated to cost around 5.8 billion euros. It is intended both, for freight and passenger rail operations.
The current pandemic apparently has not affected the constructions. According to Rail Journal, in 2020 the project focuses on developing stations, freight terminals and maintenance facilities for the 870km mixed-traffic standard-gauge 240km/h railway.
The New Silk Road: from China to Europe
On the Belt and Road Initiative (BRI), more than 6000 trains made the journey from China to Europe in 2018, which is an increase of 72% compared to 2017. Since President Xi Jinping announced the Belt and Road Initiative (BRI) in 2013, China has sent more than 11,000 freight trains to Europe and back. 
The project initially aimed to deepen the cooperation between the Chinese and the European market. So far, it has been reported successful. Especially during the Coronavirus pandemic. As JOC reported back in April, the soaring air freight rates added a new value to China-Europe rail: "Pricewise, rail freight on the China-Europe network is positioned between air and ocean, but the land link is far more competitive with air than it is for the traditionally cheaper and higher-volume ocean shipments."
Learn more about the BRI project in our blog.
Maersk makes AE19 ocean-rail service from Asia to Europe permanent
Due to the increased customer demand, Maersk also decided to make its ocean-rail weekly service permanent. The company launched combined short-sea and intercontinental rail product last year. 
The AE19 service is based on a short-sea connection between Asian origin ports in Korea, Japan or China and the port of Nakhodka in the Russian Far East. It is followed by an intercontinental rail connection across Russia from Nakhodka to St. Petersburg, which takes 11 days. The last leg of the product is another short-sea connection between St. Petersburg and ports in Finland (Helsinki and Rauma), continental Europe, such as Gdansk (Poland), Bremerhaven (Germany), or Scandinavia, operated by Sealand Europe.
Freight rates are relatively cheaper
Yes, rail freight transportation is cheaper than air but more expensive than water. But in places, where transportation through harbours is not possible, rail is a more efficient choice. To estimate the rail freight rates, you must take different aspects into consideration. These can be:
the distance to which the freight it hauled, 

geographical location, 

a type of wagon, 

the weight of freight, 

type of freight.

Do you bring your own wagons/containers or not? 
For example, DB Cargo has a special set of rules and discount plans when wagons are provided by the customer.
Prices are often adjusted. Different geographical places have an uneven number of connection points or demand. Combination of these aspects affects pricing. 
According to the Rail Rates calculations, if you want to transport freight from Shangai, China to Hamburg, Germany booking one container will cost you $100. Booking the spot for the same container on a vessel might cost around $1170. So as you see, in some cases, it can successfully compete with sea freight as well.
How rail freight companies are using xChange 
Despite all the benefits of rail freight companies still struggle with repositioning their empty containers. Just by looking at rail freight from China to Europe, we can see that 80% of eastbound containers are empty. While 89% of westbound containers are fully loaded.
At Container xChange, with our one-way platform, we have been helping rail freight companies to identify partners that reposition their equipment back to China, (almost) for free. The platform helps companies find partners, set-up agreements, track containers and handle their payments to make empty container repositioning as simple as possible.
"xChange is an important platform for us," – says the representative of HBB, – "the platform is truly global. Our company has supplied containers via the platform literally all over the world. HBB has been able to open important new routes due to the active "match-making" possible on the platform". According to them, with payment protection and automatic collection features, the platform has been a helpful tool for HBB in engaging with new clients.
Far East Land Bridge, (FELB) has been using Container xChange for the company's digital integration in the global intermodal supply chains: "We were able to find a lot of new partners; move our empty containers effectively to the places we need them; provide a lot of different services as supplier/user to other xChange members with nice reviews." 
More than 300 companies, alongside HBB and FELB, are already using Container xChange public profiles to build trust among their customers. Join them and start collecting performance ratings and partner reviews to create transparency about your business. Get verified by xChange and show potential customers how trustworthy you are. Click below and learn more about it.
Summary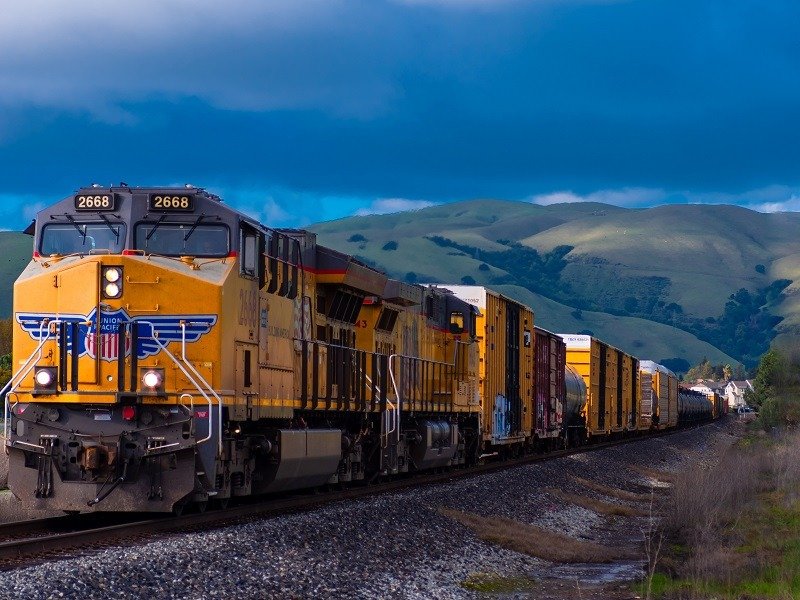 Article Name
Rail Freight | Overview, Rates and Companies
Description
Rail Freight transportation might be cost-efficient and environmentally friendlier. But it has some major disadvantages too. What are they? In this blog, we will discuss rail freight and meet some of the companies. 
Author
Publisher Name
Publisher Logo