The Port of Antwerp (BEANR) is the primary gateway to Europe, 80km south-east of the North Sea located in Belgium. Crossing the mark of 200 million tons of freight handled per year, Antwerp is the second biggest port in Europe after Rotterdam. Operated by the Antwerp Port Authority, Antwerp has capacities for handling even the biggest mega-ships. It has facilities to handle and store all types of products such as loading and unloading, storage, repackaging and distribution with perfect hinterland connection. Due to their geographical advantage, the port of Antwerp has a good connection via rail, road and waterways. In Antwerp, they handle approx. 195 ships per day and offer liner services to more than 500 different destinations worldwide. The port of Antwerp is among the biggest ports in the world, international rankings by total freight shipped vary between 11th and 20th.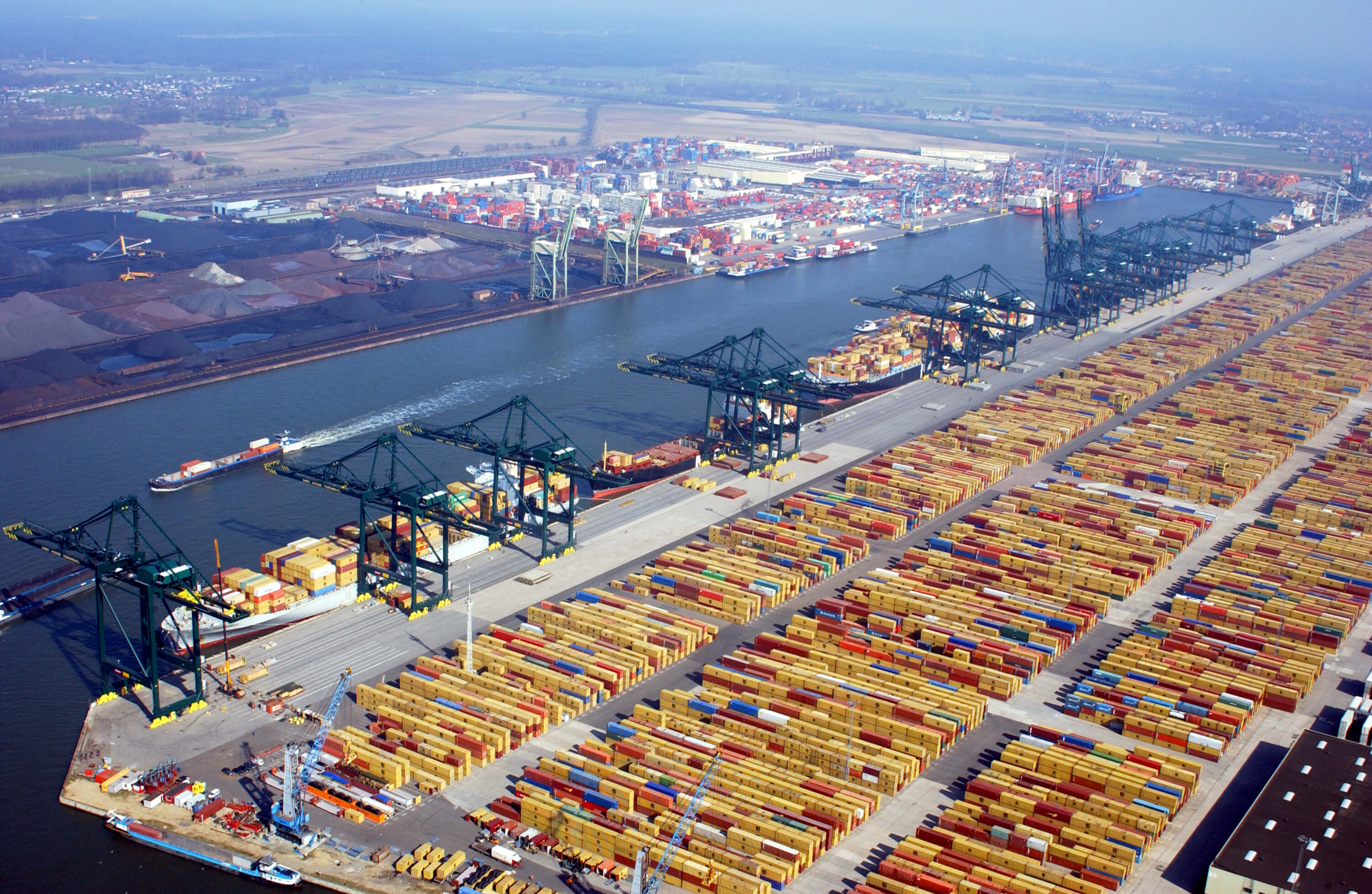 Out of 233 million tons of freight handled in 2018, 57% was containerized cargo, 25% liquid bulk cargo, 9% dry bulk cargo, 7% general cargo and 2% RoRo freight. The port is divided into two areas, the Right Bank and Left Bank. It has the largest lock in the world, the Kieldrecht Lock, which is 500 meters long and 68 meters wide to accommodate all possible ship sizes. Also, they offer a wide variety of 33 empty container depots, 7 SOLAS verified container weighing facilities amongst other services.
The Port of Antwerp is the most central seaport in Europe, what makes transports into the centre of Europe quick, cheap and ecological. Almost 150,000 people (or 3.7% of Belgium's population) owe their job directly or indirectly to the port.
Name:
Port of Antwerp
Quayside
160km
Port Authority:
Antwerp Port Authority
Storage Space
5.3 million sqm.
Address:
Havenhuis EntrepotKaai 1
Antwerp B-2000
Belgium
Throughput
10,450,897 TEUs
Website
www.portofantwerp.be
Cargo handled
233,2 million tons
Port Code
BEANR
Maxim Vessel Size
500ft. + in length
Langitude
51° 17′,52″ N
Water Depth
36-409 feet | 11-12.2 meters
Longitude
,51° 17′,52″ N
Equipment
Fixed Cranes: 30+
Mobile Cranes: Yes
Floating Cranes: 3
Port of Antwerp and Napoleon Bonapartes 1.6 billion € investment plan 
Antwerp has been used for trade since the 12th century already until the Spanish occupation closed it for international transport. The city lost its role as the center of world trade until Napoleon Bonaparte realized Antwerp's potential in 1811 when he ordered the construction of the later renamed Bonaparte dock. Thanks to the industrial revolution and trading links with Africa, America and Asia, the Port of Antwerp grew 4.5% annually in the following century. It was larger than Rotterdam and Amsterdam combined and grew continuously into what it stands for today.
Recently, Antwerp crossed the mark of 200 million tons of freight moved per year, which puts them into a situation where they have to expand container handling capacities by 2021. As part of a huge 1.6 billion Euro investment plan to improve facilities and acquire land, the Port of Antwerp is already preparing for a new tidal dock on the Left Bank of the Scheldt river. Future topics on the agenda are smart port technologies and increased community building with all their stakeholders related to the Internet of things, digitalization and maritime innovations.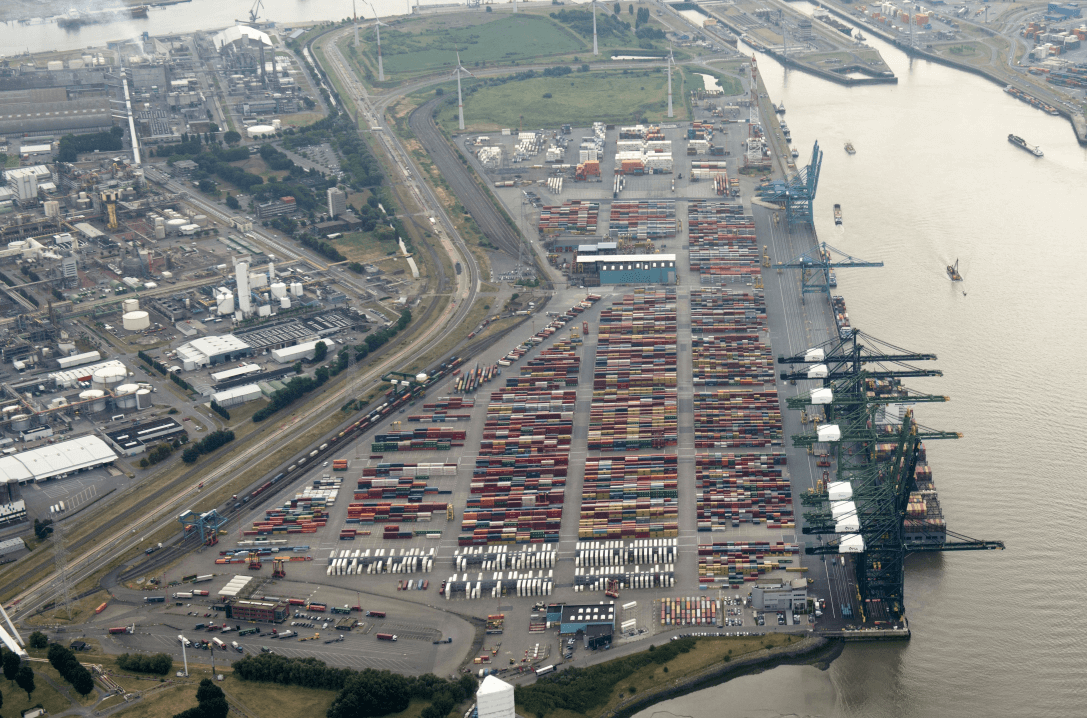 Container Terminals in Antwerp
The Port of Antwerp has 26 terminals, 17 them certified by the Chief Harbour Master and 5 of them are dedicated container terminals with a combined capacity of 16.1 million TEUs. The PSA Noordzee Terminal (2.2 million TEUs), PSA Europa Terminal (1.8 million TEUs) and the Independent Maritime Terminal (1.0 million TEUs) are smaller than the largest container terminal in Europe, the MSC PSA European Terminal (9 million TEUs) and the Antwerp Gateway Termina (2.8 million TEUs).
Port of Antwerp Gateway Terminal

With a capacity of 2.8 million TEUs, the Antwerp Gateway terminal is equipped with gantry cranes, automatic stacking cranes (ASC) and a large amount of straddle carriers. It is owned by DP World (60%), COSCO (20%), Terminal Link (10%), Duisport Group (10%) and renowned for superior productivity, advanced technology and intermodal connectivity. With its crane park the terminal is able to handle mega-ships with up to 25 rows.
The largest container terminal in Europe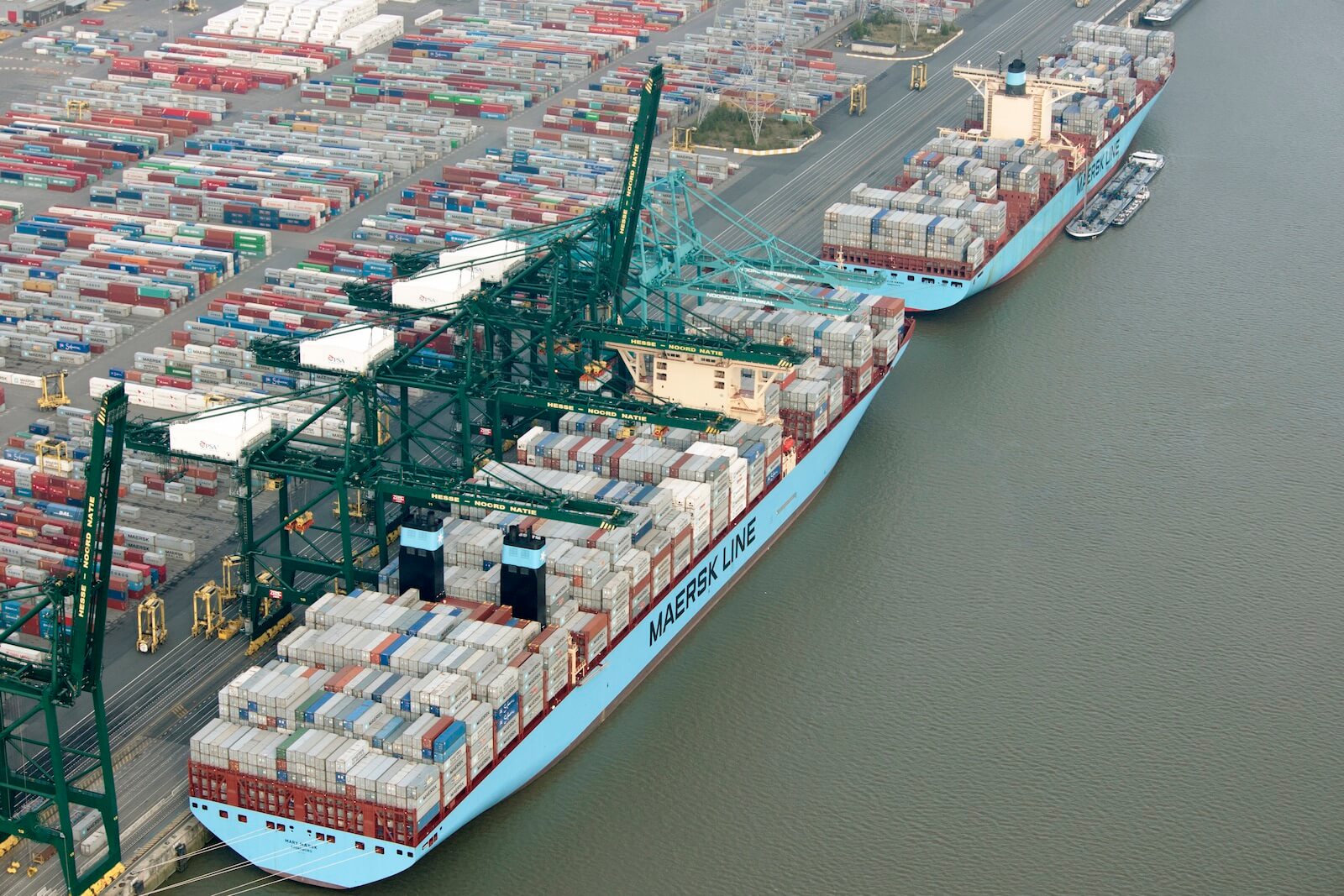 The MSC PSA European Terminal is the single largest terminal in Europe with a capacity of 9 million TEUs. It is equipped with 41 quay cranes across 9 berths, 200 straddle carriers and a quay length of 3.7 km.
Port of Antwerp: Hinterland Connection 
Antwerp ranks first as the European distribution hub for hinterland connection, a population of 143 million people can be reached by rail or road within 9-hours from Antwerp. Fifteen rail operators manage several hundred trains daily on more than 1000km inside railway track (compared to 300km in Hamburg). As for most other ports, congestion and road traffic is a huge problem. More than 200,000 trucks have been already recorded on a single day, which forces the Port Authority to invest in a smoother flow of road traffic. The geographic location makes Antwerp perfect for 85 specialized barge operators with 915 barge departures to 75 destinations in Europe per week. To conclude, an inland location can be an advantage and a disadvantage for ports at the same time, but looking at the hinterland connection of the Port of Antwerp, it is a big plus.
Port of Antwerp: Container Availability Index
The Container Availability Index (CAI) indicates how likely it is to find containers in a specific location. It uses the demand and stock information from the last two years and is a value between 0 and 1. A CAI value of 1 means a location has a total surplus of boxes, and a value of 0 indicates that there are no free boxes. For Antwerp, we got the following CAI Index values for 20DC containers:

The CAI uses millions of different data points and can forecast the demand or supply of standard containers in many of the biggest port locations. If you're interested in a forecast for a specific port and container type, please reach out to us via email.
Operational Insights and potential partners
More than sixty container owners and users run their one-way business through Container xChange and operate in Antwerp. Examples of potential partners for pick-up or drop-off in Antwerp include Kuehne+Nagel, Seaco, iCON and Sarjak. They use Antwerp as the pick-up and drop-off location for many different routes, but the following ports are the most popular combinations with the Antwerp:
| Pick-Up Location: Port of antwerp | Drop-Off Location: Port of antwerp |
| --- | --- |
| Shanghai, China | Shanghai, China |
| Qingdao, China | Karachi, Pakistan |
| Durban, South Africa | Nhava Sheva, India |
| Dalian, China | Qingdao, China |
| Mundra, India | Jebel Ali, Dubai |
Container xChange provides transparency to more than 300 container owners and users. They type in their locations and get a list of potential partners within seconds. Our one-way online platform facilitates the whole deal from negotiation, tracking, payment handling and integrated third-party services such as container insurance or container surveying. Currently, we have more than 80 matches on xChange, both for container owners and users.

Summary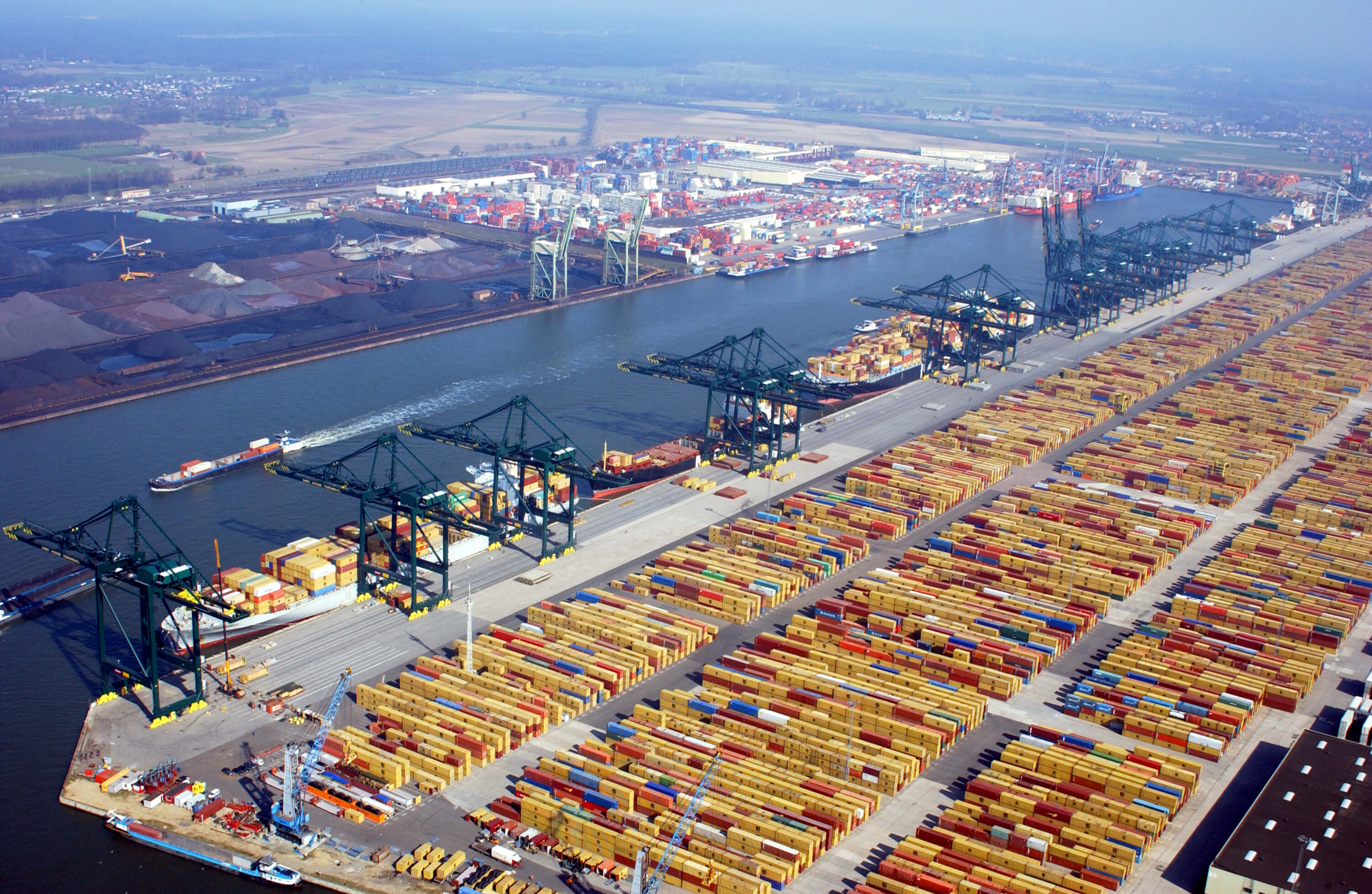 Article Name
Port of Antwerp (BEANR) | An Overview
Description
The Port of Antwerp (BEANR) is second biggest port in Europe, crossing the mark of 200 million tons of freight handled per year.
Author
Publisher Name
Publisher Logo