Online container brokers are making their way into the industry. With good reason. They can save you time and money. And make it easier than before to find new partners.
"Everything has to be online these days".
I can almost hear the complaint in my granddad's voice just from this sentence. But he's right. Many things are done on the internet now. And there's a good reason for it; it's convenient and makes it easier to gather and share large amounts of information. Something that comes in handy in an industry like the shipping industry.
In a global market, forming new partnerships are essential to keep up with demand. But finding new partners has for long been a highly manual process. By searching for companies, vetting, and negotiations. An important task, but also a very time-consuming one.
This is where online container brokers come in. On platforms like Container xChange, all companies are vetted and screened before becoming members. Saving you a lot of time. All you have to do is type in your pick-up and drop-off location. And then you'll see all the companies that have equipment available.
You can try it here!
[edsanimate_start entry_animation_type= "fadeInLeft" entry_delay= "0" entry_duration= "1.5" entry_timing= "linear" exit_animation_type= "" exit_delay= "" exit_duration= "" exit_timing= "" animation_repeat= "1" keep= "yes" animate_on= "hover" scroll_offset= "" custom_css_class= ""]
[edsanimate_end]
Changing the normal
For many years, using COC containers have been the norm. And still is. But despite that, there's a shift in the way container shipping is thought. Making SOC containers more and more relevant. A SOC container is a container that the freight forwarder or NVOCC organize on their own. They then book a slot with a carrier and pay other parties to transport the commodities.
However, it is easy to use COC containers. With a carrier you get a package deal. The carrier is then responsible for getting the shipment transported from its point of origin to its final destination.  That way you don't have to worry about everything in between. COC containers are normally used for standard shipments and on normal cargo routes. That's routes such as trade lanes from China to the U.S. with vessels e.g. in Shanghai, China, with a final destination at the Port of Long Beach, U.S.
However, on stretches where the final destination isn't a lucrative positioning for the carrier, the prices on COCs will go up. In those situations, the carrier will often want the shipper to bring their own container. Making the otherwise simple use of COC more complex. Raising the costs significantly.
Saving you charges
Apart from surcharges on freight rates, it won't take much for the easy COC containers to become an expensive ordeal for you. Imagine, that your shipments are going to a port with poor infrastructure and build ups.
Being stuck at the ports or in customs, will quickly cost the shipper a lot of money. Because when the number of free days is exceeded, and the containers haven't been returned in time there'll be a penalty. More precisely; demurrage and detention charges charged by the carrier. These charges can quickly add up, easily costing 15-20 USD per day.
This is where the one-way containers come in. Instead of using a carrier's containers, you bring your own. That way you only purchase the slot on the vessel of the carrier. Even if you're held at port, you won't have to pay the expensive demurrage and detention charges.
Container brokers and sourcing SOCs
But SOC containers take more work, which is also one of the reasons why they haven't been more popular. That's, however, changing.
When you want to use one-way containers, you will usually contact a broker. The broker has the regional focus, which gives them a personal network to rely on. Through this they'll find equipment for you to use. The broker also acts as the lessor or lessee of the containers. That way they take on the full risk. Adding security for you and the owner of the containers.
This is the way it has been done for years. But with as many other things, there are also downsides. When using a broker, the prices are often higher and you can't know if extra charges have been added to the final price, due to lack of transparency. You won't receive comparisons on prices and conditions. Getting process support is another thing that isn't included in the services of the broker. You'll be on your own dealing with payments, tracking containers, insurance, and having depots ready.
Differences between container brokers and Container xChange
| | | |
| --- | --- | --- |
| | Container brokers | Container xChange |
| Focus | Container brokers usually have a regional focus. Giving them a solid network at a regional level. | Container xChange has an international focus. Resulting in a worldwide network, with container at 2500+ locations only a click away. |
| Scalability | There's a low level of scalability when using container brokers. Due to the regional focus it's difficult to expand to other markets. The limited personal network reduces the ability of making changes in the container fleet. | There's a high level of scalability on the platform. You can at any time increase or decrease the number of containers available. As well as expanding to other markets because of the international network. |
| Transparency | Non-transparent concerning pricing, extra charges and finding partners. | High level of transparency throughout the platform. You know who you work with and you know the prices. |
| Process support | With a broker you yourself have to figure out the payment handling, track the different containers and find insurance. All that involves time-consuming email correspondences back and forth | At xChange you'll find process support when it comes to vetting process, payment handling, tracking service, container surveying, and container insurance. |
Gain transparency
The other day, I got another call from my granddad. I think, it's safe to say he has been converted. He was excitedly telling about a friend from his youth, that he lost contact with back in the days. They have now reconnected over the internet.
"Isn't it funny, how you can find people online?" he asked.
Yes, it is. But that is one of the advantages with being online. And that's exactly what online container brokers such as xChange can contribute with. Not only having a regional network of container traders. Here, you can find containers at more than 2500 locations all over the world.
xChange makes sure you only work with reliable partners and the containers arrive on time and in good condition. Saving you time and struggles. Because at xChange we want to make it all a little easier. That's also why you only have to sign one contract on our platform. We call it the BIMCO. This way, you don't have to negotiate individual contracts with every new partner.
On xChange we've gathered all the information you need on your fleet. We've also made it easy and convenient for you to find one-way containers with new trustworthy partners.
Click on the banner below and schedule a demo with us! Then we'll show you how xChange can help you and your business.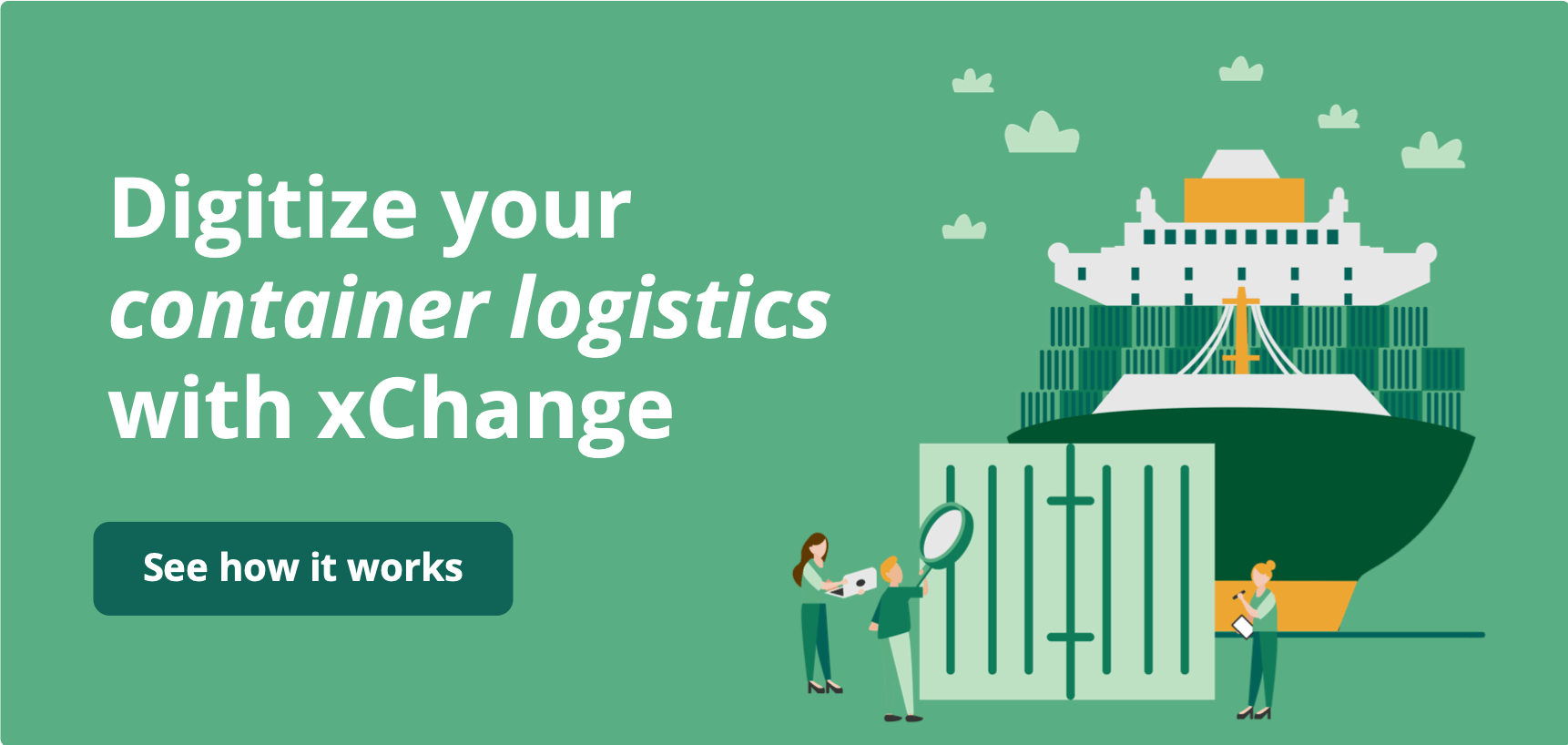 Summary
Article Name
Container broker | A cheaper and more transparent alternative
Description
Online container brokers are making their way into the industry. With good reason. They can save you time, money and make it easier to find new partners.
Author
Publisher Name
Publisher Logo