What's a one-trip shipping container and should it be your next big investment? We'll tell you all about one-trip containers, their conditions, and pricing right here.
Containers that are used once before they reach their destination are called one-trip shipping containers. These boxes have been loaded with cargo one time and have made a single trip. 
Don't confuse them with one-way containers. You can learn more about those in this separate blog post. 
Condition of one-trip shipping containers
Often, when one-trip containers reach their destination, they are put up for sale. Since they haven't spent much time on the ocean or in the container depots and terminals, they're still in prime condition.
One-trip containers spend an average of 75-90 days in total on the sea, before being listed for sale. They're not brand-new, but they're not used either. This is the main factor for their relatively lower price compared to the new containers and attractiveness among buyers. 
You should expect minor dents and scratches on the sides, as well as inside the container. There can be some marks on the sides and roof of the box after transportation. Forklifts also leave marks on the container floor during handling. But all of these things are considered normal. Although, you should think twice before accepting a container with visible structural damage, even if it has been used only once. 
The lifespan of the one-trip shipping containers is much longer than the used cargo containers. The used container, regardless of the current condition, has time spent at sea and requires more maintenance. 
__________________________________
Are you looking to buy one-trip shipping containers? On xChange's online trading marketplace you can find containers all over the world and strike deals with trustworthy and vetted partners. Want to see how xChange trading works? Click on the banner and get in touch with our expert team. 
When to buy a one-trip container
You should consider purchasing a container for purposes such as:
transport of goods,

storage space,

cargo container Homes,

bunkers,
and so on.
In all of these cases, a one-trip container is the ultimate choice. Especially, when you want a container to remain static for a long time. Normally, containers pick up wear only while they are handled (e.g. lifted, moved, transported, loaded, etc). If they sit on a site, they need minimal maintenance. So, if you are buying your new one-tripper for a storage purpose, it might as well last over 20 years. Definitely, much longer than the used containers. And most importantly, they will keep their resale value.
Pros/cons of one-trip shipping containers
| | |
| --- | --- |
| Pros of one-trip containers | Cons of one-trip containers  |
| Comes as good as new | It's not brand new |
| Has longer lifespan | Might come with dents/marks/scratches on the surface |
| Gets best long term value  | Floors can be damaged |
| Can be resold at a higher price | |
Pro tip: Save money on that one trip
Let's look at this scenario: 
Shipping containers are usually manufactured in China and then transported to different locations around the world. Let's say, you've bought a brand-new container from a factory in Shanghai, China. You want it moved to Los Angeles in the USA. But you don't have any cargo you need to ship. That means you have to pay for the new container and cover the costs of the move too.
Buying one-trip containers aren't cheap. So it might be a financial solid decision, to look for a cargo owner, who needs to ship their commodities from Shanghai to L.A. This way, you lower the transportation expenses and still get the container, which is as new. 
Want to know how much money you're out after buying a one-trip container? Keep reading 👇
Price on a one-trip shipping container
So, now you want to buy the one-trip container. How much should you pay? To put it simply – less than you pay for a new one, but more than what you purchase an old one for.
As usual, the general price depends on the geographical location, type, size, modification, and current condition of the container.
The cost of a used shipping container may vary between the range of $1500-$5000. New and one-trip containers, on the other hand, usually come more expensive and can be anything between $3000-$5000.
For instance, a used 40ft shipping container can cost around $1400, where a new or one-trip 40ft container can cost around $3500. 
Turn container trading trustworthy and easy
It's not always easy to find the containers you need, in the right location, at the right price. But it doesn't have to be that difficult.
Imagine that you're scrolling through a list of containers put up for sale. Just like you do, when going over the menu card at the local pizzeria – looking for just the pizza to satisfy the rumbling in your stomach. Or in this case, the containers that help you move the cargo or store the items that are taking up too much space. And just like on the pizzeria's menu card, you can see all the different prices on the list of containers, while you're scrolling through. Ensuring that you don't waste hard-earned money on paying too much for the containers you've set your eyes on.
Then imagine, that the list gives you access to containers worldwide. And the owners of these containers have all been vetted and checked, minimizing the risk of you being cheated out of your money. That would be easy and convenient, right?
Well, imagine no longer.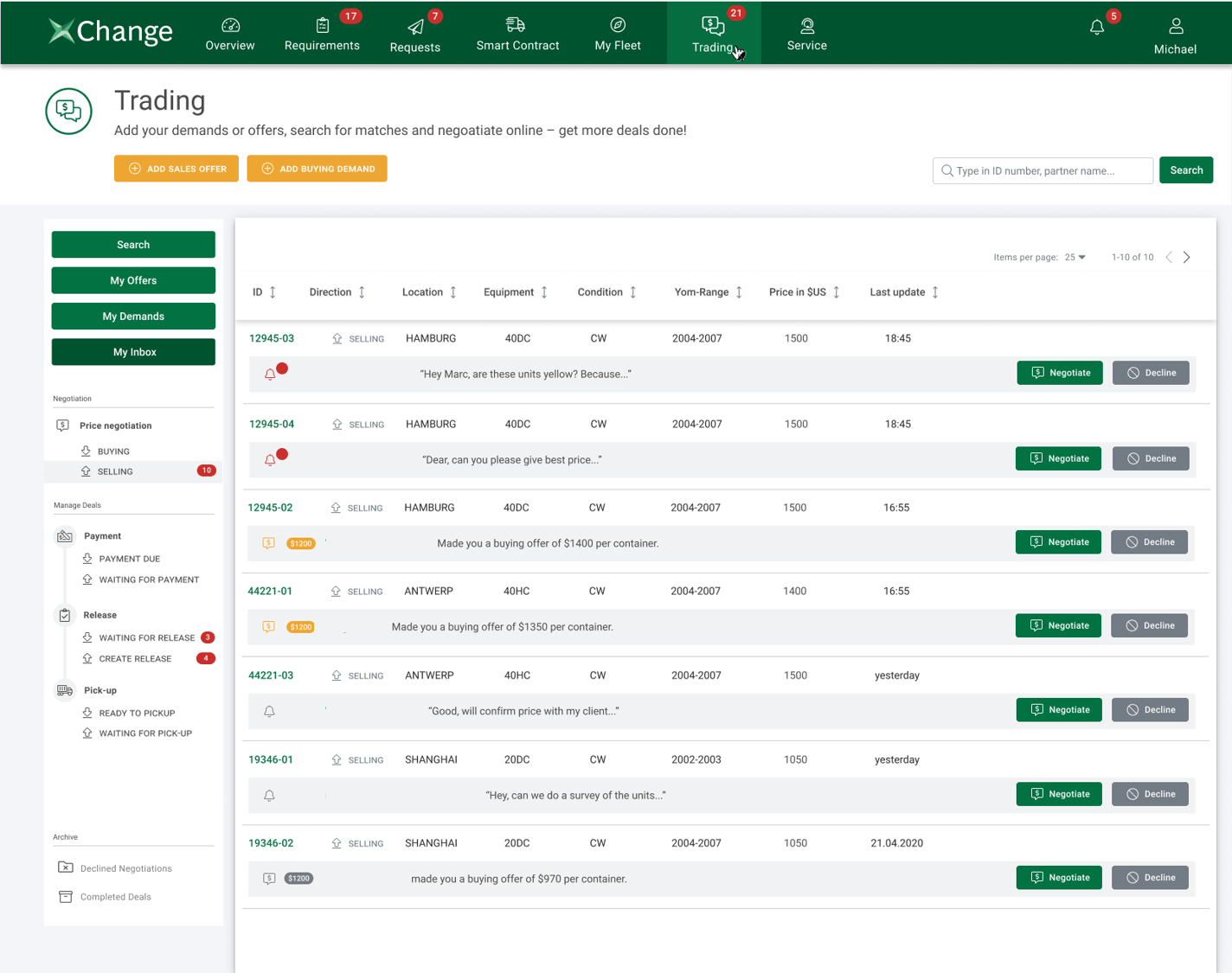 Container xChange has created the world's first neutral online trading marketplace, exactly with that purpose.
Over 300 companies already have access to the trading marketplace. And more than 50,000 containers have so far been put up for sale. That gives you a unique opportunity to find the one-trip shipping container – or any other container types – you need.
Want to see how the xChange trading marketplace can help you find containers easily and conveniently? Click on the banner below and get in touch with our expert team. They'll be happy to show you the marketplace in action.