A tank container is the most efficient way to transport both hazardous and non-hazardous products such as chemicals and food items with ease. Read on to get a sneak-peek into understanding ISO tank containers and the various benefits of buying, selling and leasing tank containers on xChange.
Finding a suitable container type to transport goods hassle-free is as essential as discovering the right, certified partner. It's especially important while moving specific types of goods/products in bulk such as food, liquid, chemicals, etc. For this reason, the global container market has seen a surge in the demand for an intermodal transportation solution, i.e., tank containers, in the last few years.
In fact, according to the International Tank Container Organization (ITCO), the global tank container fleet as of January 2021 stands at 686,650. Though the market did see some downward spiral in its demand due to the COVID-19 pandemic, tank containers were quick to make a recovery. Many companies saw them as an alternate mode of shipment as opposed to dry containers because of their ability to hold a larger quantity of certain cargoes – food, chemicals, or liquids. 
Understanding ISO tank containers
If we're to understand how tank containers have changed the face of bulk cargo transportation in the shipping industry, we have to consider what an ISO tank container means. Let's dive in!
What is a tank container? 
A tank container is a cylindrical-shaped container primarily made of stainless steel with insulation and a protective layer of either aluminium or polyurethane. This is done to protect the outer skin of the container from corrosion and harsh weather conditions.
A universal tank container comes with a stable steel frame (made according to the ISO standards) to secure the cargo and hold the container in place. It's 19.8556 feet (6.05 meters) long, 7.874 feet (2.40 meters) wide and 7.874 (2.40 meters) or 8.374 feet (2.55 meters) high.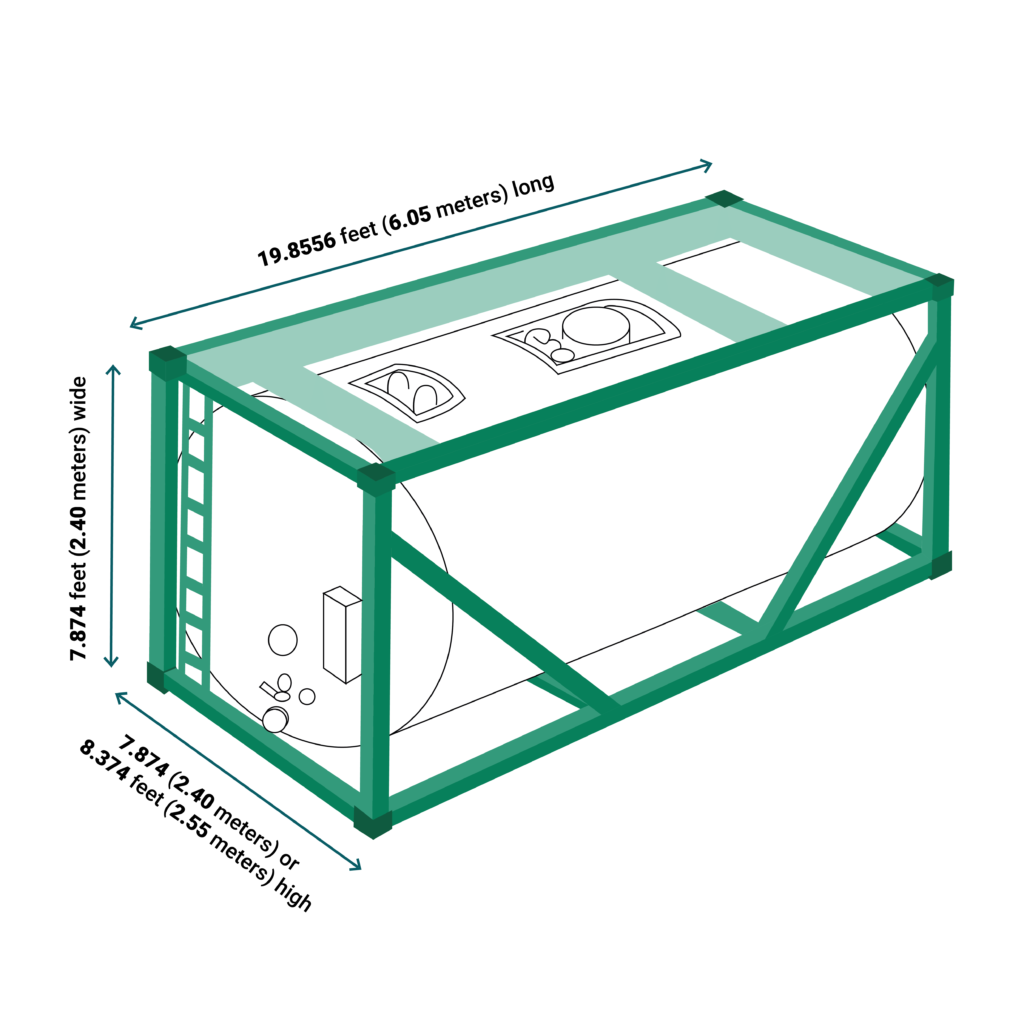 Never overfill or underfill a tank container
Following a standard dimension allows ISO tank containers to transport both hazardous and non-hazardous liquid in bulk – safely and efficiently. A tank container can carry up to 28,000 liters of content; here, it's important to note that at any time, the tank should be at least 80 percent full (to avoid surge during transit) and less than 95 percent full (to allow thermal expansion).
Uses of tank containers
Today, tank containers are used for bulk transportation of both hazardous and non-hazardous equipment. The most common items are:
| | |
| --- | --- |
| Chemicals | Gases |
| Liquids | Food |
Note: Every container is classified under IMO (International Maritime Dangerous Good Code) to identify or group dangerous goods from the rest.
ISO certification, a stamp of approval 
If you are thinking about whether or not tank containers are safe to use, the ISO certification is, by all means, an official green light.
But before we move ahead, let's understand what an ISO certification means. The International Organization for Standardization (ISO) works towards ascertaining a fixed set of industrial and commercial standards for various products and services. This is done to ensure consistency in quality and reliability.
When a tank container is manufactured, it must comply with the size, durability, and strength as per the ISO standards. Each tank goes through strict inspection and only then is it certified. A container safety certificate (CSC) is also issued by the manufacturer.  
Why use an ISO tank container?
An ISO tank container is a sustainable solution, especially, if you are planning to ship bulk liquid, gas, or chemical products.
Safety and efficiency are synonymous with ISO tank containers. Apart from the fact that tank containers can ship a considerable amount of bulk load effortlessly, they are well-appreciated for their durability. A tank container is designed to have a long life, typically 20 to 35 years. This means that a tank container can be used over and over again.
Here are a few other benefits of ISO tank containers:
ISO tank containers are globally approved and have standard quality certification, thus making them safe and reliable.
Cleanliness is a priority while handling tank containers. Every tank goes through thorough cleaning and inspection each time a cargo is unloaded and before the next shipment.
According to the international safety standards, a chemical-grade tank can't be used for the transportation of food – making tanks another notch safer.
The fact that tank containers can hold more quantities of cargo, especially, liquid, the shipping cost is much lesser compared to drummed shipment.
Low labor and maintenance cost but higher resale value.
ISO tank containers are environment-friendly – they are designed to combat product spillage or leakage, especially during long-haul transportation.
Best option to transport hazardous chemicals efficiently.
They save more fuel and reduces the emission of carbon dioxide by up to 70 percent.
Tank containers are recyclable and can be remanufactured easily.
ISO tanks can withstand harsh and diverse weather conditions.
The movement of cargo is safer and efficient than dry boxes or flexibag.
Easy to load and unload cargo
Wallet factor
Ever wondered how much a tank container costs given the growing popularity and subsequent increase in demand? Let's take a quick look before we guide you to find one on Container xChange.
The most common ISO tank container used is the T11, primarily to transport bulk non-hazardous chemicals. It can cost you anywhere between US $ 16,000 and US $ 20,000.
Having said that, prices may also vary based on other specifications. Here are a few examples of estimated prices:
| | | |
| --- | --- | --- |
| Container type | Container volume | Estimate price (USD) |
| Swap body (with baffles) | 35,000 liters | 26,000 |
| Electrically heated (built in Europe) |  24,000 – 29,000 liters | 60,000 |
| 40 ft cryogenic ISO container | 46,000 liters | 120,000 (single unit) |
Over the years, Container xChange has made the process of buying, selling and leasing all types of containers an effortless experience for all its members. Needless to say, when it comes to ISO tank containers, you don't have to look any further.
How to look for ISO tank containers on xChange 
Find tank containers easily on Container xChange's leasing and trading marketplace. All you need to do is select 'tank' under equipment types.
Note: If you don't have access to tank containers, you can purchase a tank container add-on for $99 per month. And get access to features such as tracking, payment handling, and insurance.
Offers you can't miss
Interested in the offers? Click on the banner below and get in contact with our expert team.
Types of ISO tank containers 
There are different types of tank containers and each of them is designed and approved to use for specific cargos. The chart below gives a glimpse of these tanks.
We currently have two tank grades available on xChange – foods and chemicals with capacities (in liters) ranging between 13,500 and 37,200.
At xChange, you can find tank containers in brand new condition, cargo worthy and as is; all ISO tanks are certified by ITCO – International Tank Container Organization.
Get a glimpse of all the available tank containers near you on xChange. Experience the effortless process of finding, selling or leasing a container right from the time you logged in. If you are stuck or have a query, click the banner below, and our team will help you through it.
[custom-related-posts title="Related Posts" none_text="None found" order_by="title" order="ASC"]
Summary
Article Name
ISO tank container: All you need to know [2021]
Description
Here's your guide to know all about the usages, specifications, benefits and average prices of ISO tank containers.
Author
Publisher Name
Publisher Logo