ISO tank container rentals is the way forward for most shippers in the industry. Know more about what it means and how it can transform your business right here
The shipping industry is one of the most lucrative businesses. Having said that it's one of the most challenging too. Especially for shippers, who work according to specific lead time, timely deliveries of long-haul shipments still remain a massive struggle.
This is where container leasing or the rental option comes as a rescue. Leasing a shipping container is a great way to solve this problem. Leasing provides flexibility and doesn't require you to pay upfront. This turns out to be cost-effective, unlike buying a container.
Many shipping companies are focused on acquiring containers using the rental option for its many benefits. One such most leased container happens to be the ISO tank container. ISO tank container rentals are a thing now! Thanks to the steady growth in demand and popularity over the last decade.
Before we jump into the advantages of leasing, let's understand what ISO tank leasing actually means and why opt for it.
What is ISO tank leasing?
ISO tank rental is the go-to word for many shippers these days. It is the method of renting a tank container for a fixed time by signing an agreement with the container supplier. These containers are used for both shipping and storage.
The lease agreement states a specified time, minimum containers to be leased, and the rate. It also specifies other terms and conditions applicable by law.
Note: Always remember to negotiate and read through the terms of the agreement carefully before signing it. 
From the time of its inception, tank container has, in a way, revolutionized the world of freight transport. It is safe, reliable, durable, and offers a wide variety of options for specific cargoes such as chemicals, gases, and foods. This makes choosing the right kind easier for many.
There are different types of leasing arrangements for various demands. To know about these leasing agreements and their benefit to the users, click here.
Why lease tank containers?
There are many reasons why the container leasing market is seeing constant growth and demand in the tank container sector. But among all, flexibility is the biggest privilege here.
ISO tank container rentals in general cost double the amount of owning or buying a used one. But leasing gives you the option to use a tank container for a longer duration, making the shipping business more flexible.
Leasing tank containers is especially feasible when you don't have enough capital at hand; with leasing, you don't have to make upfront payments. Moreover, if you're seeing a sudden surge in demand, you'll have immediate access to additional containers that too at a minimal price.
While you're expected to maintain the condition of the containers, suppliers often understand that nominal wear and tear is part of the shipping process. That being said, it's only ethical to return them in the best form or replace them with a new one in case of severe damage.
However, along with the pricing, it's important to in mind the quality of the tank containers. Lease tank container on xChange and be rest assured that the quality is never compromised. The platform offers more than 800 certified partners around 2,500 locations that you can choose from.
xChange also offers a variety of tanks at competitive prices and value-added services such as payment handling and depot communication so you can focus on your business.
Benefits of ISO tank container leasing
There are numerous benefits of tank container leasing. Let's look at some of them here: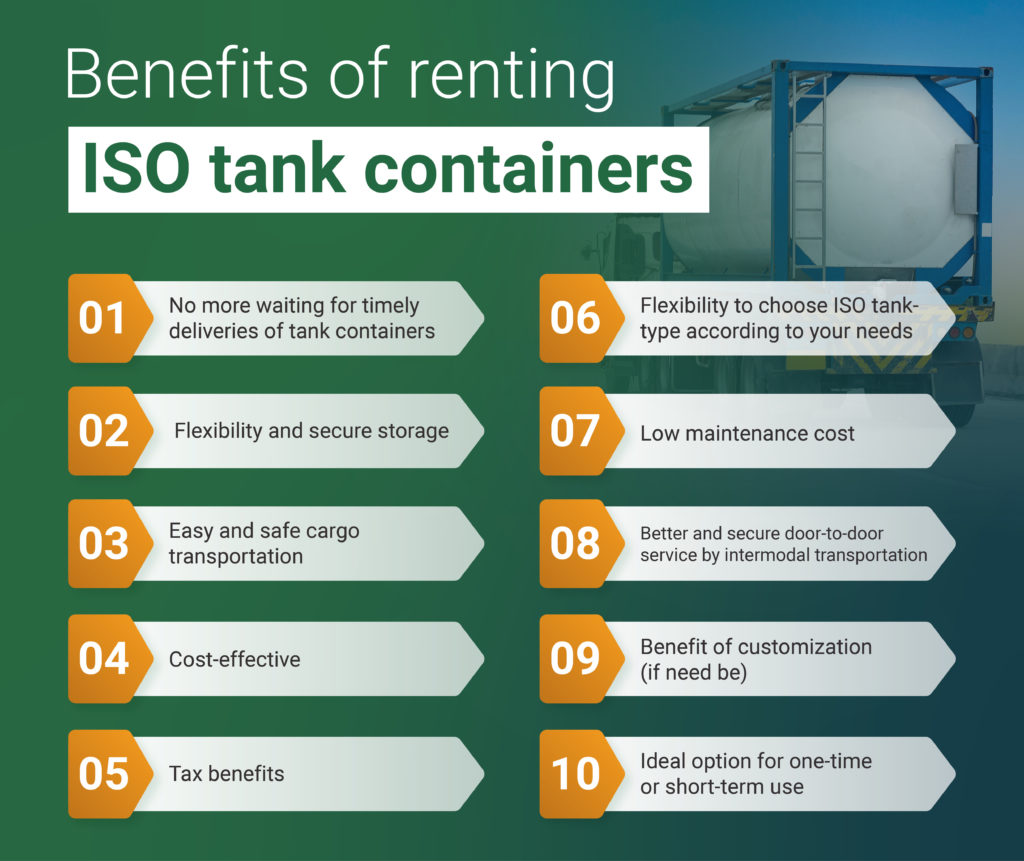 Along with tank containers, major players in the market also lease ISO tank container chassis with both short and long-term options at an affordable price. It has numerous financial benefits, low maintenance charges, and high flexibility for your shipping needs. While you can lease a chassis separately, most suppliers bundle up these chassis with the container (it's company-specific).
20ft chemical tank container tops the leasing demand list
One of the most in-demand tank containers for leasing is the 20 ft chemical-grade container, followed by a food-grade container constituting only 5% to 10%.
Safe transportation of hazardous chemicals is the biggest challenge, especially for long-haul shipments. However, with ISO safety standards in place and practice, chemical tank containers have acquired the trust of many. Thanks to its safety and leakage-proof assurance, there is a rising demand for tanks in the leasing market space. Many suppliers provide inspection and a quality-assurance certificate before leasing these containers.
You can also find chemical and food grade tank containers (of all types, conditions, and sizes) for leasing on xChange at a great price.
ISO tank rental price
Did you know it is so easy to start a lease on xChange? Here's how you can do it:
All you have to do is choose your pickup location(s); a list of certified partners will appear on your screen, choose the one that best fits your requirement. Send them a supply or use request and Container xChange takes over from here. From payment handling to depot communication, it's all done with 100% transparency and accuracy.
Moving forward with a compounding annual growth rate of 17 %, the global container leasing market is expected to reach USD 7.1 billion by 2026. The demand and popularity of tank container leasing are because it gives shippers and freight forwarders the liberty of flexibility.
Let's look at some of the benefits of tank container leasing on xChange: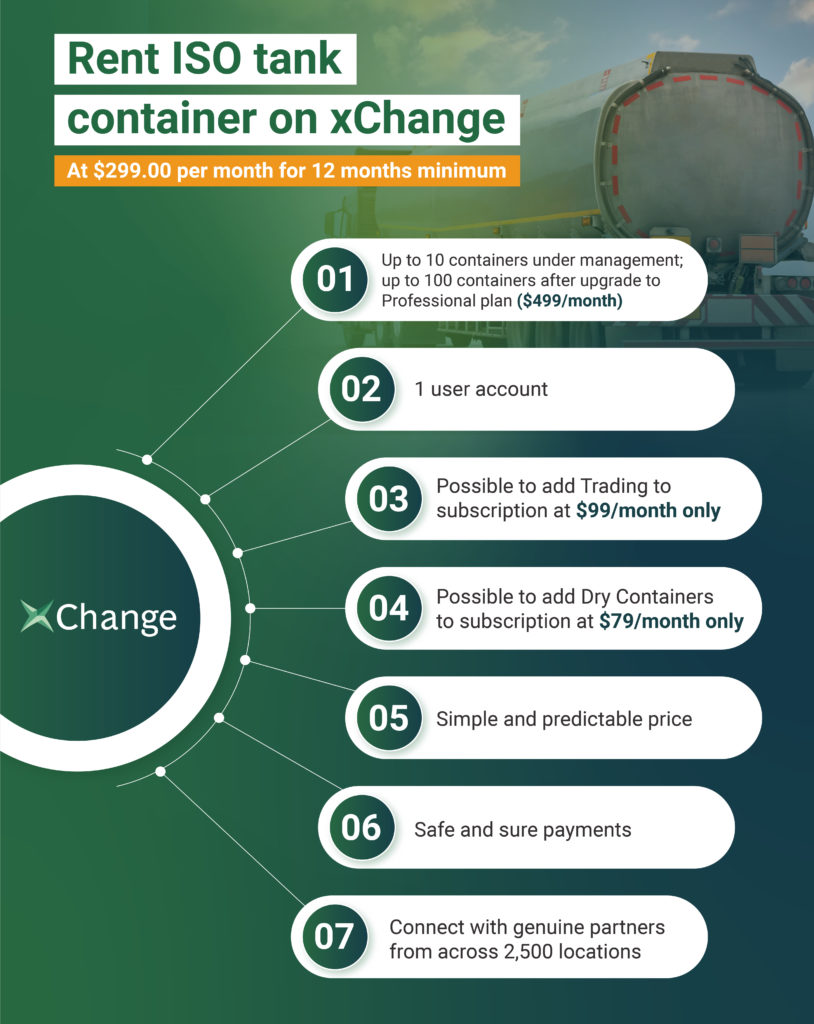 If you are looking to lease a tank container, look no further, experience a hassle-free leasing process, and get connected to certified partners to enjoy great deals. When you are stuck or want to know the best type of tank for you, click the banner below, and our team is ready for you.
[custom-related-posts title="Related Posts" none_text="None found" order_by="title" order="ASC"]
Summary
Article Name
ISO tank container rentals: Your guide to know it all [2021]
Description
Leasing a shipping container provides flexibility and doesn't require you to pay up upfront, thus, it turns out to be cost-effective, unlike buying a container. Tank container leasing is the new favorite term for many in the industry.
Author
Publisher Name
Publisher Logo