High cube containers are one of the most commonly used container types. Especially 20HQ and 40HQ are the go-to choices because they provide extra space.
Yes, we know. There are many different container types out there. And that's enough to get your head spinning. Now, that you've narrowed down your search to high cube containers, let's give you a quick, but in-depth, overview of what's made high cube containers so popular.
A distant, identical, but taller cousin of 20ft and 40ft standard containers, these specialized high cube containers are much in demand because of the extra height. At the same time, 20HQ and 40HQ are easy to stack on the vessels as they have a similar width as standard containers. 
Do you already know that the high cubes are right for you?
Let Container xChange make it easy for you to source the containers you need. Our online marketplace works just like a marketplace filled with food from all over the world – just with containers. On xChange, you can find containers – whether you want to lease and or buy – right where you need them. And you can skip worrying about who you deal with, as all companies are vetted before becoming members of xChange.
If you're still unsure, here's the overview 👇
Know The High Cube
Standard-sized containers with a height of 9'6" are called high cube containers. They look like standard containers, but because they are a bit higher, they appear like a cube when viewed from the front and back. Which explains their name. The high cube containers are known under many names. Such as High cube, Hi-Cube, HC, or HQ. The majority of these containers are made from durable materials like steel or aluminum.
High cubes are used to ship all kinds of dry cargo, just like standard containers. But, they are extremely functional for transporting light and large cargo, especially the ones with heights (maximum 2.70 m).
The high cube containers have numerous lashing rings (mounted on front top end rail, bottom cross member, and corner posts). The lashing rings can max bear a 1000 kg load. Some high cubes containers may have recesses on the floor. These have two purposes:
Help center the containers on a chassis, and

allow these containers to lie lower. This gives them a taller construction.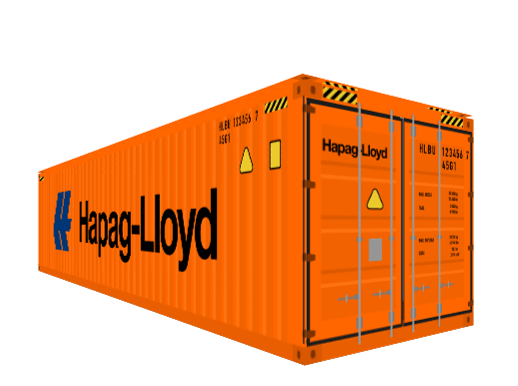 Are you looking to buy high cube containers?
With more than 800 shipping companies using Container xChange to buy, sell, and lease containers, xChange makes it easy for you to find boxes in any and all container types in more than 2500 locations worldwide. You can choose between them all, right from your computer screen. To make it even easier for you, every member of xChange undergoes a thorough background check, so you can find trustworthy partners to strike your next deal with. Online.
Click on the banner below and book a tour of the platform with our expert team.
20HQ, 40HQ, and all their measurements
Containers are made according to standard sizes set by the International Organization for Standardization (ISO).  This way, they can be stacked efficiently. Something that reduces the risk of toppling over during transit.
High cube containers are similar to the 40ft standard containers in length and breadth but have a height difference of exactly 1 foot. That gives the high cubes an additional ~344 cubic feet of storage capacity. The extra height also means that the containers are heavier than the standard. 
Let's have a look at the high cube container's dimensions compared to a standard 40ft container:
External measures
| | | |
| --- | --- | --- |
| Measure | Standard | High Cube |
| External length | 12.2 m / 40 ft | 12.2 m / 40 ft |
| External width | 2.44 m / 8 ft | 2.44 m / 8 ft |
| External height | 2.60 m / 8.6 ft | 2.90 m / 9.6 ft |
| Door Width | 2.34 m / 7.8 ft | 2.34 m / 7.8 ft |
| Door Height | 2.26 m / 7.5 ft | 2.57 m / 8.5 ft |
| Max Gross Weight | 30,480 kg / 67,196 lbs | 32,500 kg / 71,650 lbs |
Mostly, high cube containers are 40ft tall. But they can also be 45ft, depending on the requirements. Here are the internal measurements and capacity of these containers.
Internal measurements
| | | |
| --- | --- | --- |
| Measure | 40ft HC | 45ft HC |
| Internal length | 12.03 m / 39.5 ft | 13.55 m / 44.5 ft |
| Internal width | 2.35 m / 7.8 ft | 2.35 m / 7.8 ft |
| Internal height | 2.67 m / 8.9 ft | 2.67 m / 8.9 ft |
| Tare weight | 3,940 kg / 8,687 lbs | 4,820 kg / 10,628 lbs |
| Payload capacity | 28,600 kg / 63,052 lbs | 27,860 kg / 61,431 lbs |
| Cubic capacity | 76.3 m3 / 2,694.5 cu ft | 86 m3 / 3,036 cu ft |
But given the extra height, it's important to take note of this: High cube containers are often considered over-heightened for inland transportation. Especially when they're going under tunnels, bridges, and so on.
In terms of volume, how much can you fit in a 40ft high cube container?
760 medium flower pots. 610 standard package boxes. 152 bicycles, give or take a couple. There's room for many things in a high cube container.
But let's try to simplify it a little. Here are some standardized sizes that might be a bit more tangible. According to European pallet size (1.2m x 0.8m), you can fit in 25 pallet stacks in a 40ft high cube container. For American pallets (1.01m x 1.21m), there can be 21 pallet stacks as long as they are not hanging over the sides.
Where to find high cube containers
It's not always easy to find the containers you need, in the right location, at the right price. But it doesn't have to be that difficult.
Imagine that you're scrolling through a list of containers put up for sale. Just like you do, when going over the menu card at the local pizzeria – looking for just the pizza to satisfy the rumbling in your stomach. Or in this case, the containers that help you move the cargo or store the items that are taking up too much space. And just like on the pizzeria's menu card, you can see all the different prices on the list of containers, while you're scrolling through. Ensuring that you don't waste hard-earned money on paying too much for the containers you've set your eyes on.
Then imagine, that the list gives you access to containers worldwide. And the owners of these containers have all been vetted and checked, minimizing the risk of you being cheated out of your money. That would be easy and convenient, right?
Well, imagine no longer.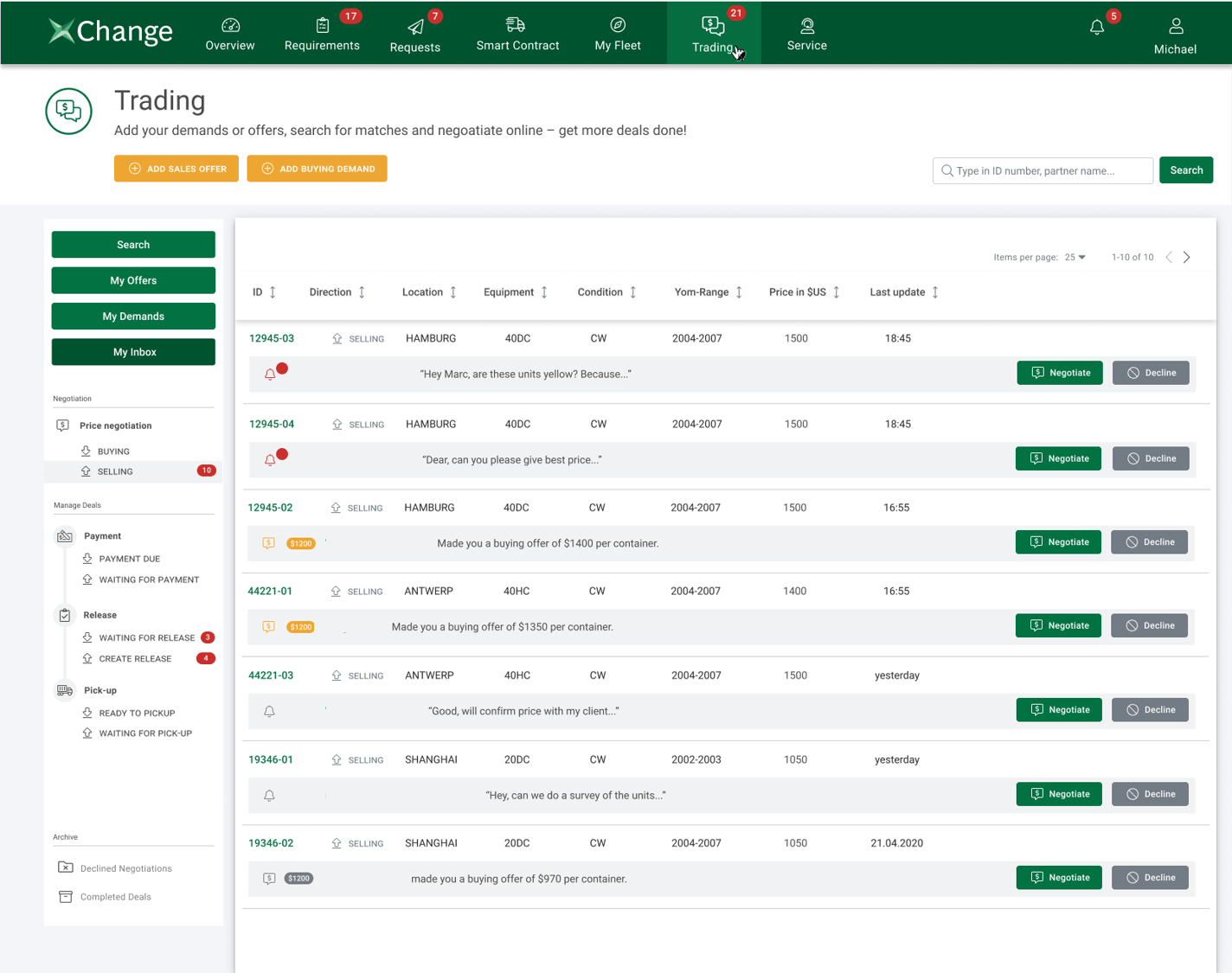 Container xChange has created the world's first neutral online trading marketplace, exactly with that purpose.
Over 300 companies already have access to the trading marketplace. And more than 50,000 containers have so far been put up for sale. That gives you a unique opportunity to find the high cube container – or any other container types – you need.
Want to see how the xChange trading marketplace can help you find containers easily and conveniently? Click on the banner below and get in touch with our expert team. They'll be happy to show you the marketplace in action.
Related Posts
Summary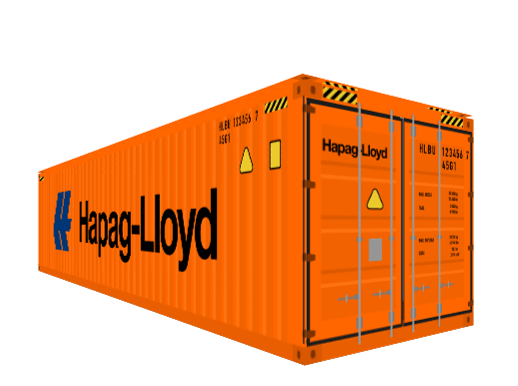 Article Name
Container Types | High Cube Container – Explained
Description
High cube containers are one of the most commonly used containers for shipping cargo after standard 20ft and 40ft containers. Providing extra space, these containers are the go-to choices for forwarders.
Author
Publisher Name
Publisher Logo