Looking for freight forwarders in UAE? Here's a list of the top 10 forwarders and NVOs located in the UAE rated by business partners on xChange.
2020 was a crazy year. And by all accounts, 2021 stands to be one as well. Everyone has felt the impact of the worldwide pandemic, but some companies have done better than others.
If you're looking for freight forwarders in UAE then you've come to the right place. Because we've gone through the transactions and performance reviews on our platform, xChange, to find the best freight forwarding companies and NVOCCs in UAE.
With an average rating of 4.6 based on one-way and trading transactions on xChange, we here present to you:
The top 10 freight forwarders and NVOs in UAE on the xChange platform
WFF Shipping LLC
TNA Worldwide LLC
Time Log Shipping
Time Global Shipping LLC
Ravian Shipping Line Dubai
Rah Shipping & Logistic LLC
Maxx Marine Container Line
CTI Shipping Services LLC
Avana Global FZCO
Alligator Shipping CO LLC
Want to find new trustworthy partners like these forwarders and NVOs? On Container xChange all members are certified and vetted before making deals. That way you save time on background checks, research, and hairpulling worries. Let xChange do that for you – so you can focus on doing your job and getting the best possible deals.
Feel free to reach out to the following forwarding companies and NVOs if you have business inquiries and check out their websites, social media, or xChange profiles to learn more about them. Curios about xChange? You can learn more about us at the bottom of the article.
For now, let's have a look at the freight forwarders and NVOs.
Top 10 freight forwarders and NVOCCs in UAE
WFF Shipping LLC
WFF Shipping LLC has over 30 years of overall Industry experience in providing freight and logistics services throughout the world including United Kingdom, China, UAE, Pakistan and Afghanistan. The company has a strong brand name and is well known to its customers for a reliable range of International Freight Forwarding and Logistics services in a more cost-effective manner.
Learn more about WFF Shipping LLC
TNA Worldwide LLC
It is Our Belief, which accentuates the very existence of TNA Worldwide LCC having an unwrinkled background of upright existence for more than 3 decades now. Having involvement in diversified businesses, the group is determined to grow and progress further, strengthening "The Belief". With an annual turnover running in millions of USD the management is always keen to venture into innovative and profitable businesses. TNA is a Subsidary of Al-Hamza Group.
Learn more about TNA Worldwide LLC
Time Log Shipping
TIME LOG Shipping Company was established in 2012 initially to provide customer forwarding services and could grow up rapidly by serving talented and dedicated professionals and become a leader in the shipping industry we can manage the movement of cargo by air, land & ocean to and from any destination worldwide. We are your full services providers. This is accomplished by learning our customers' exact needs with regard to their internal and external requirements, thus ensuring that TIMELOG will service more consistently than any others. We do all the best by adopting the innovation and novation ideas that meet client's wants and needs by tailor-made services in adherence with the international standards of FIATA.
Learn more about Time Log Shipping Company
Time Global Shipping LLC
At Time Global Shipping, we bring you decades of experience with a comprehensive solution to help navigate the complexity of international and domestic logistic and warehousing solutions. Our goal is to be the most trustworthy and most reliable partner to our customers and to assist them through customized solutions. Time Global Shipping is a world leader in global container shipping and a company offering global service with local knowledge. Time Global Shipping also provides an integrated network of road, rail, and sea transport resources that stretches across the globe.
Learn more about Time Global Shipping LLC
Ravian Shipping Line Dubai
Over 40 years of service to build on, our experienced management is committed to quality, reliability, and innovation. Particularly emphasis on import and export of cargo enables us to expand and confirm our position as the leading Independent Operator. Ravian's competent in the three principles; land, air, and sea. Ravian guarantees full service from small parcels shipment to the transportation of major industrial projects undertaking and custom formalities.
Learn more about Ravian Shipping Line Dubai
Rah Shipping & Logistic LLC
RAH Shipping & Logistic is a company of young professionals based in Dubai, United Arab Emirates committed to growing as a leading NVOCC, We're also growing up as an International Freight forwarding company that provides comprehensive logistics solutions. With vast experience in all aspects of handling and coordinating the logistics of International cargo, we are committed to providing world-class service. You can trust RAH Shipping & Logistic to get your valuable cargo to its final destination on time, intact under proper shipping mode and reasonable price, we are committed to providing the best logistics services with high spirit.
Learn more about Rah Shipping Logistics LLC
Maxx Marine Container Line
MMCL is offering services for your imports & Exports from Worldwide, we proudly announce to you that we have a strong network of associations worldwide, we have complete supply chain management solutions & we can offer you "ONE WINDOW OPERATION" under one roof, and are pleased to introduce our organization as Maxx Marine Container Line is a neutral FMC registered and OTI licensed Multi-National NVOCC with offices in UAE, USA, and Pakistan. We are bound to provide you with one window operation between the two sectors and by having our own contract with all major carriers like Maersk, Safmarine, MOL, CMA, ANL, Hapag Lloyd, Zim, UASC, Hanjin, we are more than capable of providing you excellent rating structure, free time and user-friendly operation for all your logistic needs.
Learn more about Maxx Marine Container Line
CTI Shipping Services LLC
CTI Shipping is a global business engaged in the shipping and logistics sector. Presently direct offices are in UAE, Pakistan, Afghanistan, and Malaysia and dedicated agents in 150 countries globally. We played our role in international trade between the world's economies and among emerging markets across all countries.
Founded in 2018 and headquartered in Dubai, UAE. CTI delivers goods and services to local communities, customers, and international business partners. With access to an integrated global network of road, rail, air, and sea transport resources, the company prides itself on delivering global service with local knowledge.
Learn more about CTI Shipping Services LLC
Avana Global FZCO
Coastal Shipping, Liner Services, Refrigerated Logistics, Warehousing, Distribution, and other customized logistic services – with everything we do, we aim to contribute to nations' economy. By leveraging the expertise of our parent companies we aim to create a unique operational model, that uses technology to make accurate predictions, ensure high levels of efficiency, focus on automated operations, and simplify logistics across the Indian sub-continent and the Middle East.
Learn more about Avana Global FZCO
Alligator Shipping CO LLC
We welcome you to Alligator Shipping Co.LLC – The pioneers of Multimodal Transportation and Logistics Solutions. Alligator Shipping Co.LLC is the solution to all your problems. We ship cargoes all around the world, simply connecting the dots and making the world a smaller and a better place to live. Our customers have not only been receiving our quality services but have also been experiencing customer delight! Our global network of affiliates enables us to provide sublime transportation solutions to our esteemed customers.
Learn more about Alligator Shipping CO LLC
Container xChange and freight forwarders in the UAE
When you want to lease a container, there are many steps to take. It all starts with finding container suppliers. Vetting them. Shortlisting them. Getting in contact with the companies. And then comes the lengthy, teeth-grinding email correspondences negotiating back and forth.
But what if it didn't have to be that difficult to find trustworthy freight forwarders? No more wasting time searching for forwarders, background checks, and time-consuming negotiations.
That's where Container xChange comes in. On xChange, you can find more than 600 shipping companies with just a click. Our platform ensures transparency, convenience, and cost-effectiveness for all the stakeholders by providing a neutral ground for interaction.
Let Container xChange make it easy for you to find new trustworthy partners.
Curious to see how it all works? Click on the banner below and book a call with our expert team. We'll show the platform in action and help you find the partners you're looking for.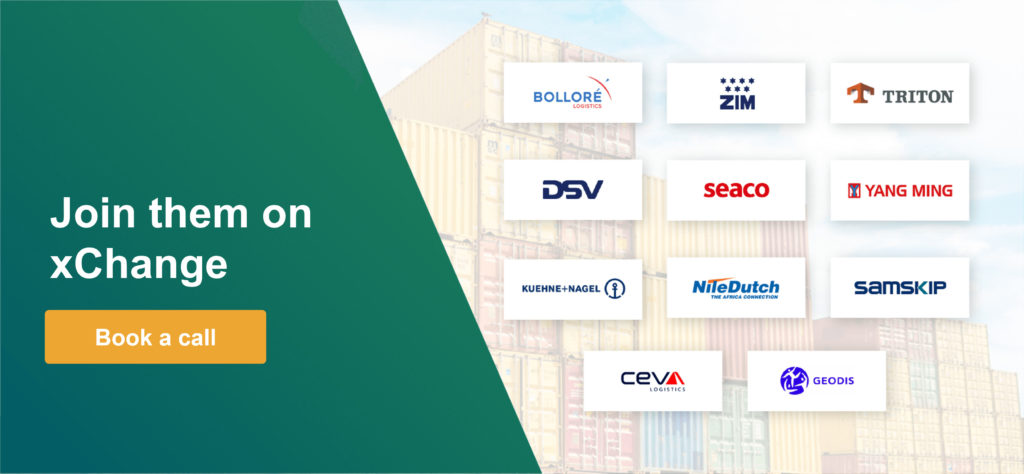 Summary
Article Name
Top 10 freight forwarders/ NVOCCs in UAE
Description
Looking for freight forwarders in UAE? Here's a list of the top 10 forwarders and NVOs located in the UAE rated by business partners on xChange.
Author
Publisher Name
Publisher Logo