Empty container transport is an industry-wide challenge. Not only is it a nuisance having to transport your empties. It's equally expensive. There are, however, ways you can save costs and reduce your empty transportation.
You've just searched for "empty container transport". Maybe you're looking for more information on this industry-wide and costly problem. Or maybe you're searching for ways to avoid moving your empties and save money. Regardless of your need, we've gathered both background information on empty container transportation and ways you can reduce your empty moves.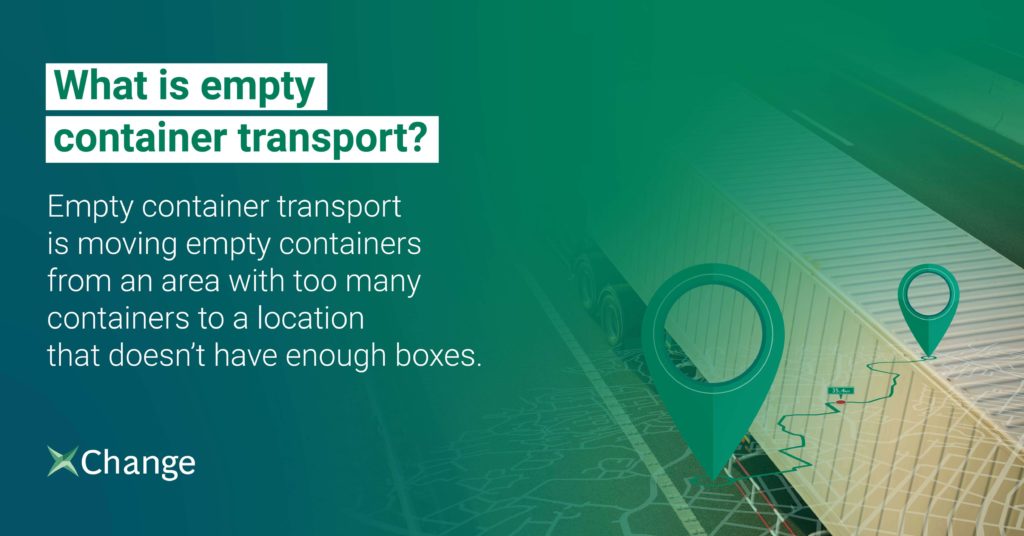 Every year the global fleet of shipping containers makes more than 200 million trips worldwide. With so many shipments, containers end up in many places. Here, the boxes just wait on their next journey. But for you as a container owner, it costs money having containers located in places where there already are too many boxes, or you don't have a network in place.
This is where the empty container transport comes into play.
So, what is empty container transport?
Empty container transport is exactly what it sounds like. Empty containers are shipped when they're in places that have a surplus of containers. A container owner can also decide to move their empty containers, simply if there's a lack of network at the location.
And it's not rare for container owners and carriers to decide to transport their empty containers to a better location. Every third container being moved is empty. That's at least 60 million empty container transportations per year.
Costs of empty container transport on sea
Not only is it inconvenient and a waste of time transporting empty containers, but it's also equally expensive. Every year empty container transport costs the industry more than $60 billion. A whopping cost that's equivalent to over 12% of the operating costs for shipping lines.
That may not come as much of a surprise for you, now that you're here.
Want to grow your network and find container users around the world that can move your containers? Click on the banner below and see how the xChange network works with more than 800+ shipping companies.
Main reasons for empty container transportation
Imagine this: You have 100 containers in Antwerp. The empty containers have to be transported to Asia. That way they can carry export cargo. However, there aren't any of your northern European customers, who can use these boxes for exports. This leaves you with having to move your empty containers from Antwerp to Asia. When you have to pay for handling charges at terminals and ports, storage and maintenance at warehouses, inland transportation, and seaborn repositioning, it becomes both time-consuming and expensive to do so.
Maybe you recognize this scenario or have been in a similar one at some point. Because this situation is far from unique.
Empty container transport has always been a problem in the industry. However, it's gotten worse in recent times due to the rapid growth. This is driven by consumers – you and me – increasingly demanding and buying goods produced across the world. Also leading to gradually growing regional differences, where especially European and American ports experience a high surplus of empty containers. At the same time, Asian ports face severe shortages.
Trade imbalances impact empty container transport
These regional differences in trade play a major role in the need for empty container transport.
Around 2/3 of all empty container transportations come from trade imbalances between regions. The remaining 1/3 empty repositioning is related to carrier-specific inefficiencies that can be difficult to overcome.
Here are some of the areas where you may also have experienced difficulties:
Create revenue:

It can take weeks before you find a new customer that'll use your boxes to export cargo and bring it back to the port. It can instead generate a larger profit at a shorter time to transport your empty containers to the desired location.

Costs of producing containers:

At times, it's cheaper to sell your containers in surplus locations and buy new boxes in Asia.

So, when it costs more to manufacture or lease containers, the amount of empty container repositioning can also go up.

Headhaul:

Sales teams focus on increasing the headhaul volume – not optimizing container flows.

Unsure forecasting:

Often, container owners over-forecast demand. 

Specific container types:

Customers may need other container types, such as reefers or open-top, which are not available at the location.

Costs:

Often carriers know the total costs of transporting empty containers. But don't know the drivers behind these costs. This makes it difficult to analyze the costs and situation.
Intermodal transportation of full and empty containers
Moving full intermodal containers and repositioning empty boxes are vital in the container shipping industry. Moving containers by sea are just one way to transport your intermodal containers. Railway and trucking are also used as means of transportations with inland repositioning. In the US, around 28% of the freight movement happens on the railway.
However, despite the faster turnaround on containers when using the railways, the cost is equally higher compared to shipping by sea. And despite the slower transport time, around 80% of the international trade in goods is moved by sea – also helped by the transport crossing oceans.
The container transport chain
When moving containers – full or empty – this is how the transportation chain looks like:
Solve empty container transport with technology and network
We can't completely avoid empty container transport when international trade imbalances persist.
But what if someone transported your empty containers to the destination? You wouldn't have to pay to move the containers and you'd be free of the administrative hassle of figuring out slots on the vessel, trucking, and so on.
To make it even easier, imagine you could sit behind your computer screen and scroll through container users interested in moving your containers for you. All these container users would already be vetted, so you'd know they're trustworthy. Container users would also be able to reach out to you if they're interested in your offers. You'd also be able to see peer reviews from former partners – and see who they've worked with so far.
If you see a company you like, you can send them a message and negotiate terms like free days and per diem. All based on the standard contract you've all filled out beforehand. Making your negotiations smoother and your work faster.
After that, you can lean back in your chair, and stay up-to-date on the whereabouts of your boxes with automated container tracking. All of that in one place – right from your computer screen.
Easy and convenient, right?
That's what we thought at Container xChange. Our online platform helps you minimize your empty container transport. 
You can find trustworthy partners on the platform and skip the hassle of lengthy contract negotiations, background checks, and endless email correspondences.
One-ways to reduce your empty container transport
Hopefully, we piqued your interest right above. One-way containers can help you save costs and minimize your empty moves.
Let's go back to the scenario from the beginning, with your 100 containers stuck in Antwerp. Now, a container user is interested in using your boxes to ship cargo to e.g., Shanghai. The user leases your containers one way. You get your container moved for free and they get their cargo moved too.
With our online neutral platform, we make it easy for container owners and users to find trustworthy one-way partners. And you can automatically update your one-way offers on xChange, easing your manual workload. To make it safer and even easier for you, every xChange member goes through a mandatory background check, before they can make deals on the platform. Ensuring that you find trustworthy partners online.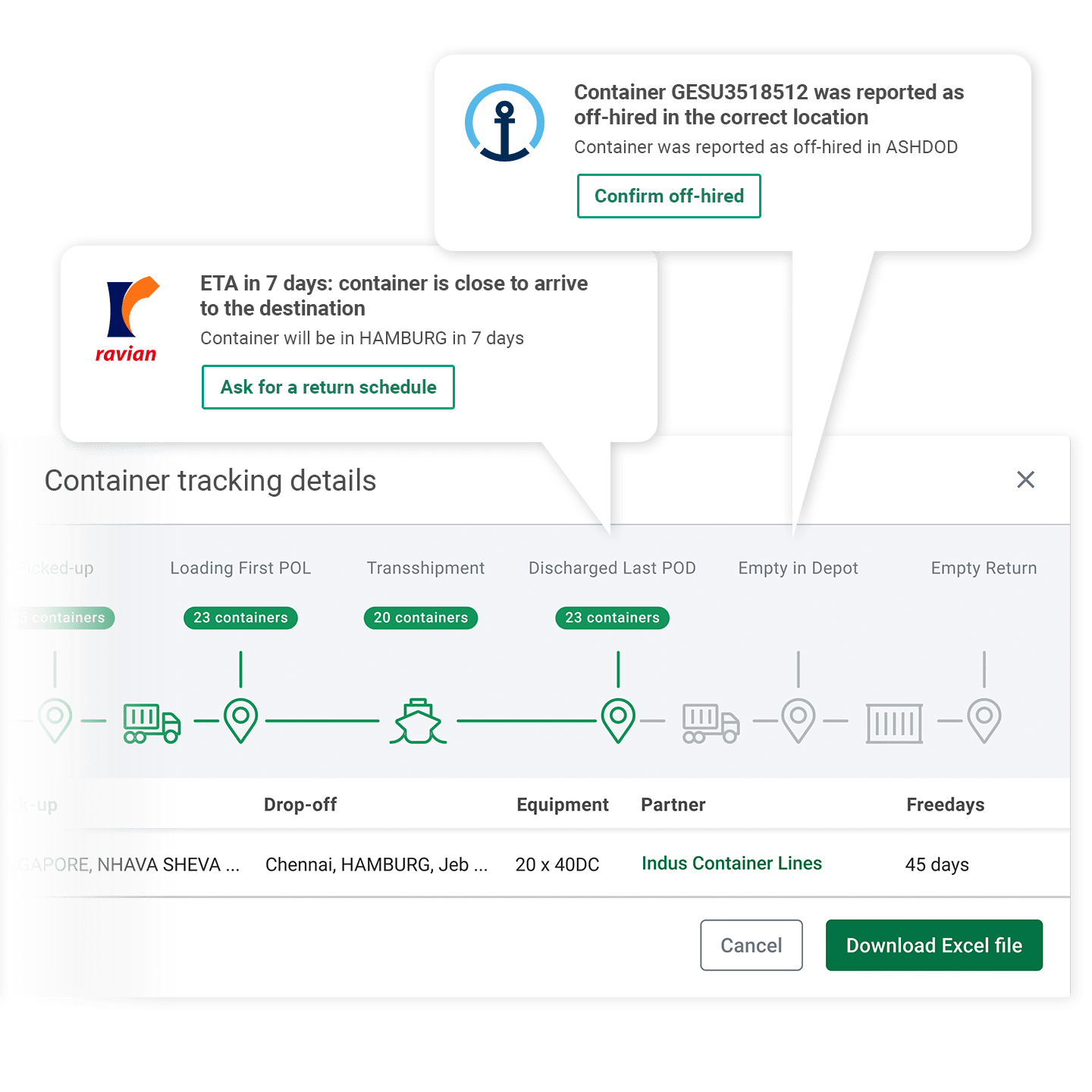 At the same time, can you also monitor your one-way containers in real-time. You can receive container status updates and tracking alerts – such as ETAs and misuse warnings. That way, you can focus your time on the containers that really need attention.
Want to see how you can leverage a growing network and real-time technology to save time and money on empty container transport? Then click on the banner below and book a call with our expert team. They'll show you the platform in action and how you can use it to your advantage.
[custom-related-posts title="Related Posts" none_text="None found" order_by="title" order="ASC"]
Summary
Article Name
The empty intermodal container transport [+how you avoid it]
Description
Understand the industry-wide problem with empty container transport. And get tips on how you can save costs and avoid shipping your empties.
Author
Publisher Name
Publisher Logo