You just googled "double door container" and there are probably more search results popping up on your screen than you have socks in your drawer. But whether you're looking for more information about the container with the double doors or want to get your hands on some of these boxes, we're your go-to source. So, let's make it easy for you and get started.
Yet another modified version of standardized ISO containers, we have the double door container. As its name suggests, the container has double doors on both ends. That way, the shorter lengths of the container can work like entry and exit points. 
These doors have also given the container its nicknames 'tunnel container' and 'tunnel-tainer'. Because when you open all the doors, the container looks like a tunnel. Smart, huh?
But what makes it even smarter is, that this 'tunnel'-function makes it easier to load and unload cargo. It's particularly helpful if you have goods that need to be loaded from two different sides of the container at the same time.
Have you already decided on the double door containers?
Let Container xChange make it easy for you to source the containers you need. Our online marketplace works just like a marketplace filled with food from all over the world – just with containers. On xChange, you can find containers – whether you want to lease and or buy – right where you need them. And you can skip worrying about who you deal with, as all companies are vetted before becoming members of xChange.

Know The Double Door Container
An identical twin of a standard dry container, the double door container has two doors at both ends, instead of one. These containers are made from durable materials like steel or aluminum and are available as 20ft, 40ft, and 40ft high cube containers.
Double door containers are an amazing choice if you need to load two different types of goods in the same container. That means you can access them from two ends at the same time. This also makes loading, unloading, and sorting of goods easier and more flexible. It can also be repurposed as a general dry container as well by closing one of the doors permanently.
This is what the double door container looks like:
Are you looking to buy double door containers?
With more than 800 shipping companies using Container xChange to buy, sell, and lease containers, xChange makes it easy for you to find boxes in any and all container types in more than 2500 locations worldwide. You can choose between them all, right from your computer screen. To make it even easier for you, every member of xChange undergoes a thorough background check, so you can find trustworthy partners to strike your next deal with online.

Dimensions: Double Door Container
All containers are made according to standard sizes set by the International Organization for Standardization (ISO). Double door containers are available as 20ft, 40ft, and 40ft high cubes. Here are the internal measurements and capacity of these containers:
| | | | |
| --- | --- | --- | --- |
| Measure | 20ft DD | 40ft DD | 40ft High Cube DD |
| Internal length | 5.89 m / 19.3 ft | 12.03 m / 39.5 ft | 12.03 m / 39.5 ft |
| Internal width | 2.34 m / 7.8 ft | 7.8 ft/2.34 m | 2.34 m / 7.8 ft |
| Internal height | 2.38 m / 7.9 ft | 2.38 m / 7.9 ft | 2.69 m / 8.9 ft |
| Tare weight | 2,700 kg / 5,950 lbs | 4,700 kg / 10,362 lbs | 5,200 kg / 11,470 lbs |
| Payload capacity | 27,780 kg / 61,244 lbs | 27,300 kg / 60,180 lbs | 28,600 kg / 63,052 lbs |
| Cubic capacity | 33.0 m3 / 1,165 ft3 | 65.3 m3 / 2,306 ft3 | 76.3 m3 / 2,694 ft3 |
In terms of volume, how much can you fit in a 40ft double door container?
380 big trees or 470 standard packaging boxes. Or, items of four 2 bedroom houses. Or, about 50 tonnes of rice! 🍚
But, to simplify things in standard sizes: according to European pallet size (1.2m x 0.8m), you can fit in 30 pallet stacks in a 40ft side door high cube container. For American pallets (1.01m x 1.21m), it can fit 25 pallet stacks.
Uses of double door containers
Double door containers are used to ship all types of general dry cargo, bulk cargo, special cargo, etc. These are specially used for transporting motorbikes, cars, and snowmobiles as the vehicles can be loaded from one end and unloaded from the other end easily. These containers can also be partitioned in the middle to give space to two different shippers simultaneously without mixing the cargo.
But, they are widely functional for domains beyond shipping.
These containers are used as makeshift tunnels as they offer safe passages to get from one place to another. Hence, they are also called tunnel-tainer. Several double door containers can be lined up to form a tunnelway as well. These are specifically used at construction sites because of safety, durability, and ease of installation.
Double door containers also come in very handy when moving houses as items can be loaded and unloaded from both ends, hence making the whole process faster and easier. These can also be used by business owners to store excess stock as the goods are easier to sort later due to double doors.
Lately, these containers are also converted and remodeled as houses or office spaces. As removing the original walls from the container to customize it is easier with double doors, these containers prove to be a cost-effective and faster option.
Find your double door containers
It's not always easy to find the containers you need, in the right location, at the right price. But it doesn't have to be that difficult.
We've earlier mentioned that finding containers, can be just as easy as when you go shopping for groceries. So imagine this. Instead of going through shelves after shelves of exotic foods from all over the world, you'll be surrounded by containers worldwide. And just as with the local supermarket, you'll be able to see the prices of each container – and compare the prices with each other. That way you can make sure, you don't waste hard-earned money on paying too much for the containers you've set your eyes on.
To make it even simpler for you, all the container owners have been vetted and checked, minimizing the risk of you being cheated out of your money. That would be easy and convenient, right?
There's no need to imagine any longer.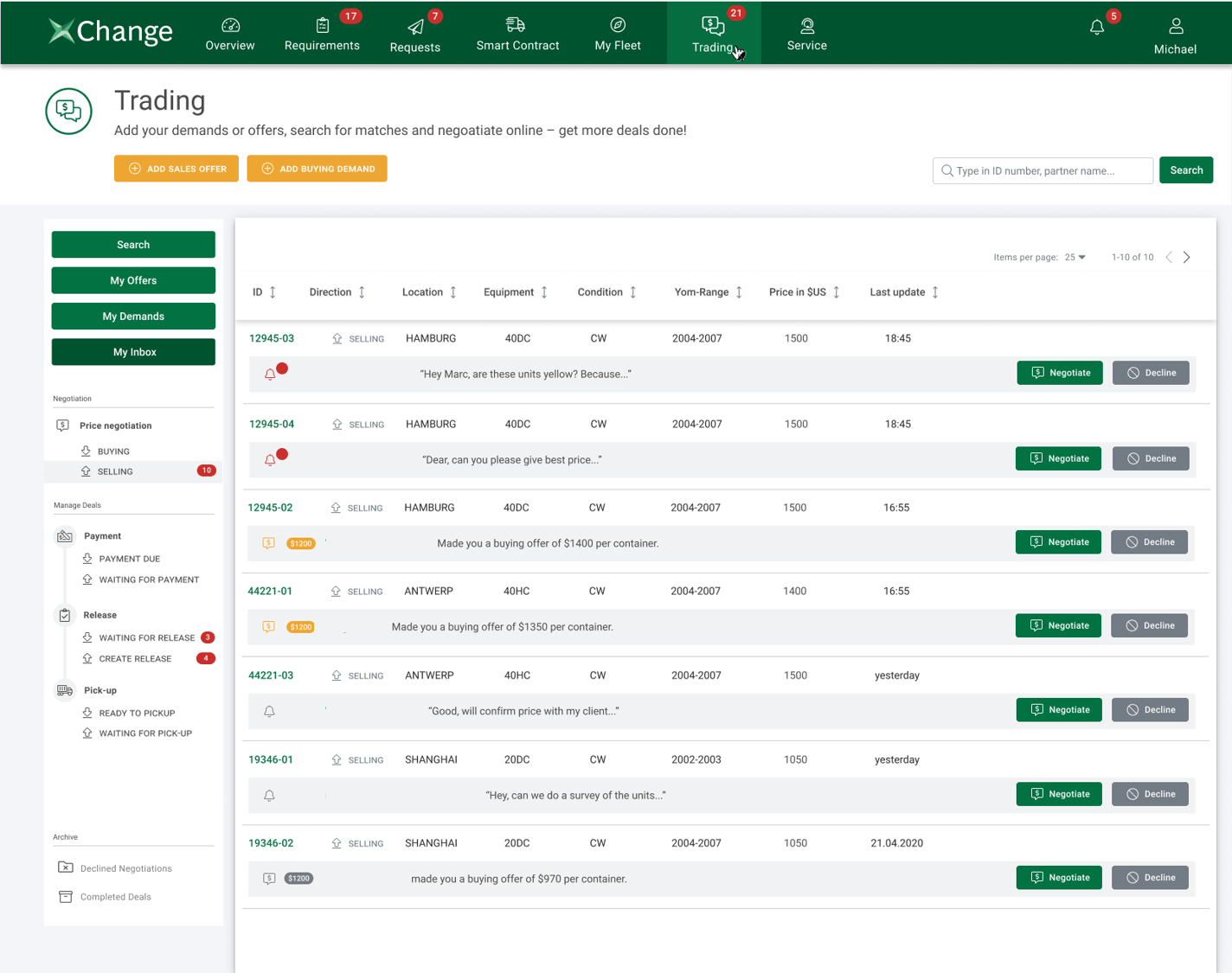 Container xChange has created the world's first neutral online trading marketplace, exactly with that purpose.
Over 300 companies already have access to the trading marketplace. And more than 50,000 containers have so far been put up for sale. That gives you a unique opportunity to find the double door container – or any other container types – you need.
Want to see how the xChange trading marketplace can help you find your double door containers easily and conveniently? Click on the banner below and get in touch with our expert team. They'll be happy to show you the marketplace in action.