How much does a shipping container cost? – is probably one of the most searched logistics related questions on the internet. But to get a proper answer you must know the basics in container trading. And most importantly, the right techniques to search. We decided to make this process a bit easier for you. So, here is everything we know about container trading in 2020.
---
Type in a location to find containers to buy or sell on xChange
---
An intro to container trading
You can go ahead and skip this part if you don't need an introduction to container trading. See the prices and companies from our marketplace down below. 👇
Container trading is one of the integral parts of modern box-driven logistics. It sounds simple: One party sells, other – buys. But it's not an as simple process. Usually, in trading there are:
Manufacturing companies (mostly in China), which make new boxes and then sell them in big batches (our

blog

can tell you more about them). 

Container trading/leasing companies, which own new, as well as old containers for sale.

Any other kind of big or small logistics companies, which would like to both: sell or purchase a container. Their demand depends on the size and purpose of the company. They might look for/sell a brand new or second-hand container. 

An individual, who is interested in owning a container (usually for recycling).
Currently, most of the process in container trading is manual. It very much depends on personal networks, existing partnerships, experience in the industry, and sometimes even on the online research skills (excluding the big manufacturers here).
So, let's say you are from a medium-sized freight forwarding company and urgently need to buy 3 containers in a specific location. 
What do you do?
You decide on what type of container to purchase, 

You check your budget and make estimations based on your prior purchase history or market knowledge,

Then you check the availability of the containers in your area,

After that, you find the ways to get in contact with the seller and negotiate details,

Lastly, you finalized the purchase legally.
Who can help you?
Personal network and brokers 
Normally you will find a person from your own network to help you arrange. Especially, if you have been in the industry for a while, you will most likely know someone, who knows someone.
Or you go through a broker, who will find you a suitable option. So, a broker becomes an intermediary between the seller and a buyer. Container brokers usually have a regional focus. Giving them a solid network at a regional level. They can take care of the matter from A to Z as long as you pay them. 
But on the other hand, they are often non-transparent concerning pricing, extra charges and finding partners. You won't receive any information on price comparisons. And they have difficulties connecting you to partners outside of their regional network.
Online search 
Or you can simply go to the internet and look for hours for the options on different websites. There is a big chance that search results are fragmented, and not exactly matching your expectations. Also, it is not always the safest way, either. After finding the right equipment, parties then negotiate their own purchasing prices and arrange all the official or legal requirements on their own.
And again, most of the container trading happens regionally and only the bigger container trading companies do business internationally. 
After going through this experience you will learn that process is neither easy to handle nor time or money efficient. Because of all these separate reasons, market transparency remains an issue in container trading. 
To help logistics companies gain global trading options, as well as transparency within the market, Container xChange has created the first 100% neutral online marketplace for Container Trading.
This online platform allows you to find a suitable container and activate the market scanner to get notified about new offers that fit your needs. Within the marketplace, you can look at the container prices, do the research in specific locations, negotiate directly with the new partners and even do the payments through xChange, if that suits your plans.
How much should you expect to pay for a container
Based on the information we get through our marketplace, we can look at the average pricing, as well as location availability of shipping containers. This information is frequently updated and here we see figures from 25.08.2020
| | | |
| --- | --- | --- |
| Type | Condition | ~ Price |
| 40FT | Brand new | 3900 USD |
| 40FT | Cargo worthy/ AS-IS | 1700 USD |
| 20 FT  | Cargo worthy | 1300 USD |
| 40 High Cube | Cargo worthy | 2055 USD |
Prices:
As our data from the table above suggests, average prices on containers differ according to their type, condition and locations. 
Brand new containers, based on their type, might cost between 3600-4800 USD. The used ones come in cheaper but in different conditions. They can be cargo-worthy, WWT, or As-is. More detailed guide into the shipping container conditions in our separate blog. 
According to the data on our marketplace, an average price on a standard, cargo-worthy 40 ft dry container is around 1700 USD, and on 20 ft – 1300 USD. 40 High Cube containers will cost you an average of 2055 USD.
Locations:
Some of the busiest locations with the most container selling offers are the ports of Shanghai, Hamburg, Rotterdam, Antwerp, Jebel Ali, Chennai, etc. In these ports, the demand for the containers is relatively high as well. In our database, there are currently no ports with higher demand, than the on-sale offerings. However, potential opportunities appear every day.
Demand/offer:
On the xChange trading marketplace, the most offered shipping container types are 40HC and 20ft dry boxes. Also, 40HC seems to be the most demanded model among the traders.
10 top-rated container traders on xChange Trading Marketplace
The trustworthiness of our partner companies is crucial for us. That is why we now offer public access to our member profiles. Among which you can find certified container traders. With our rating system, every member gets evaluated by other members for their performance. Here are the top-rated container traders you can find on Container xChange:
With an experience of 20 years, CR Container Trading GmbH is active all over the globe, trading in both new and old containers with some of the markets biggest and most influential companies. The core business of CR Container Trading GmbH is the purchase and sale of containers of all types, as well as renting and positioning them worldwide. 
Company has an experience of 30 years in worldwide logistics, as well as regional accommodations. Their range includes standard sea containers, refrigerated containers, room elements and individually manufactured special containers – one or one hundred, today or next week. Capable of being transported by road, rail, sea or air. They have manufacturing sites in Bremen, Munich and Worms, as well as in other German and European depots.
CSI Container Services International

CSI is a container service company that is active in buying, selling and one-way lease of new and used containers.
E-Ship Global Logistics is an International Freight forwarder with headquarters in Chennai, India. Company answers any kind of logistics requirements of their clients be it customs clearance or Inland transport with a specific focus on personalised follow-up and service Backed by over 150 years of solid shipping expertise.
iCON International Container Service GmbH
iCON International Container Service is a trading company providing rental, transport, storage and repair of various container types to customers worldwide. Founded in 1998 in Hamburg, iCON has become a leading partner in logistics offering individual solutions in a global network run by four main offices. 
Since founding in 1999, Kukdong MES has been buying and selling used containers for international shipping and selling Flexitanks for transporting liquid cargo. The company supplies used containers in Korea, China, South East Asia, South West Asia, and the USA as well. Kukdong MES can supply high-quality containers because of Kukdong CRS – their subsidiary company – repairs and cleans the containers in Yangsan and Incheon ICD.
OCEANBOX is a customer-focused shipping container provider. They supply and deliver shipping equipment worldwide based on requirement levels and aim to balance sustainability in the global equipment resources. Company containers are available either ready on the ground, with FOT releases, as well as their sought after off-hires with free deliveries directly into your nominated depots in the locations that customer requires.
O.V. Lahtinen is a Finnish container trading company providing global sales and rental of new and used containers. The company operates a large network also offering one-way-services connecting Europe and Asia.
SILVERSEA has specialized in the international movement so that all the markets they serve have the permanent supply of equipment both used and new, in excellent condition and at highly competitive prices. "we want to bring transparency, and the best way is clearly showing our numbers and allowing our customers to decide what is best for them." 

Sogese SRL is a worldwide container trading company with a strong business focus in Europe, the Middle East and China and 40 years of experience in the container industry. They manage 20′, 40′, 40'HC iso standard units – both dry and reefer. As well as special equipment such as Open Tops, Double Door, Open Side and Flat Racks. Sogese SRL also owns two container depots in Italy (for the management of dry and reefer units), one in Livorno of about 55.000Sqm and one in Melzo of about 20.000Sqm. Company is interested in providing the equipment for one-ways from the USA, North Europe, Middle East and to China, Korea, India, South Asia in general.
These are only a few of the certified trading companies you will be able to find and work with on our neutral marketplace. Click on the banner below and we will help you get your next best deal on the global container trading market.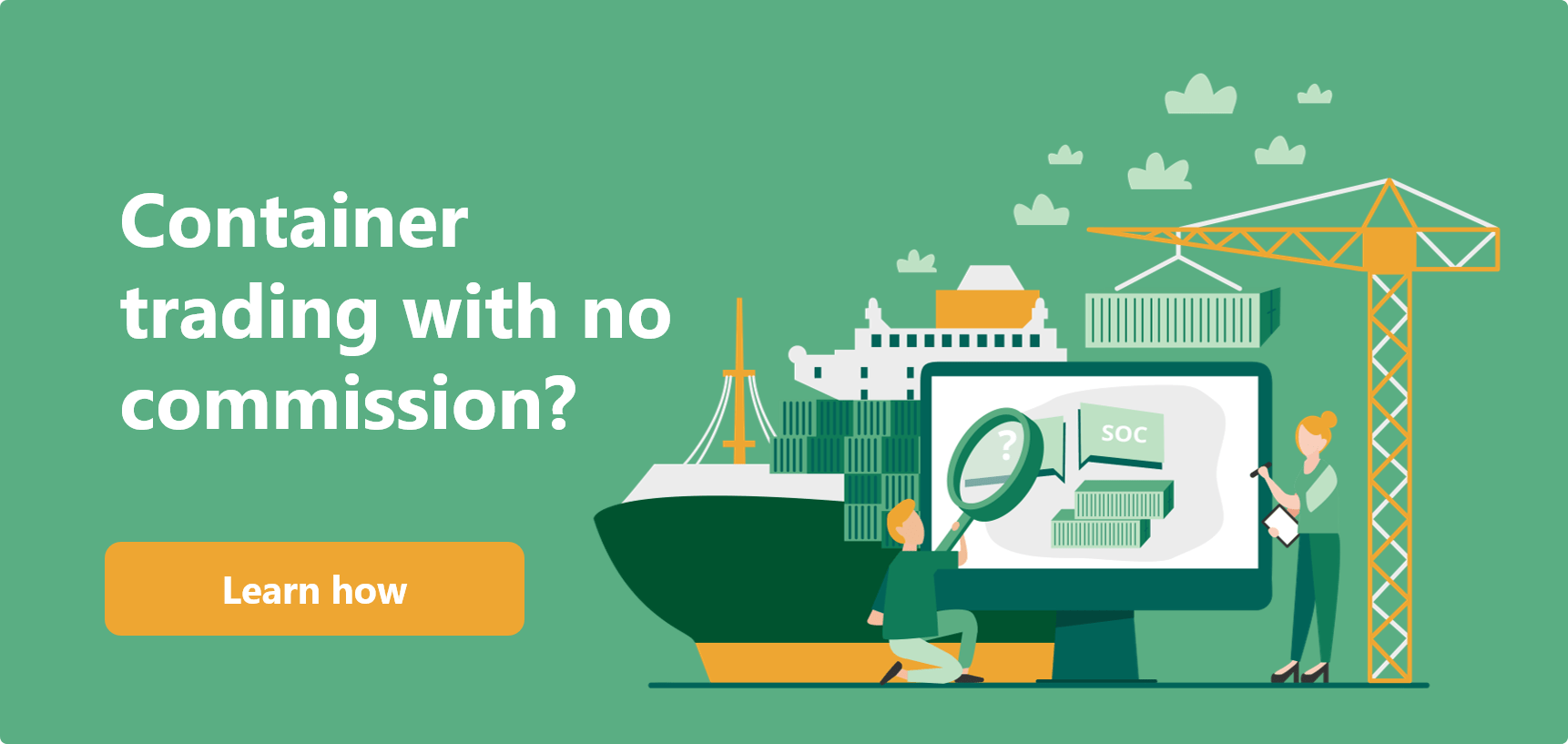 Summary
Article Name
Container Trading | Companies, brokers and platforms
Description
How much does a shipping container cost? - is probably one of the most searched logistics related questions on the internet. But to get a proper answer you must know the basics in container trading. And most importantly, the right techniques to search. We decided to make this process a bit easier for you. So, here is everything we know about container trading in 2020.
Author
Publisher Name
Publisher Logo