In spite of the global container shortage, the platform on Container xChange experiences a high availability of containers.
For months, the container shortage has caused problems across the global supply chains. Even though there are millions of shipping containers worldwide, many of them aren't where they're needed right now.
With China's export to the U.S. and Europe far surpassing its import from those countries, containers are now stuck in the West when they're needed in the East.
The acute container shortage is yet another obstacle in the long row of issues the industry has had to deal with in the past year. For many shippers and forwarders, 2020 was a year where it was crucial to think outside the box to get containers and cargo from point A to point B. 
Now with the lack of equipment across continents, companies have to look elsewhere to find the containers they need.

Looking for containers? Then try out our public search and see how many available containers on xChange fit your needs. Type in your pick-up and drop-off locations and you're ready to go.

Container shortage a recurring issue
Container shortage is an ingrained part of the logistics industry. It's difficult to get around that some areas import more than they export and vice versa. The latest worldwide container shortage has grown in scope due to a longer peak season, COVID-19, and a China that is quickly regaining its financial momentum. 
Many carriers are now faced with the issue of having containers stuck in the wrong places. In effect, making it nearly impossible for shippers to get their commodities moved. 
However, using carriers and their containers aren't the only way to get cargo transported. SOC containers, also known as Shipper Owned Containers, can be a good alternative. Especially when we're in the middle of a container shortage, where cargo can risk waiting weeks for COC containers. 
Available containers on Container xChange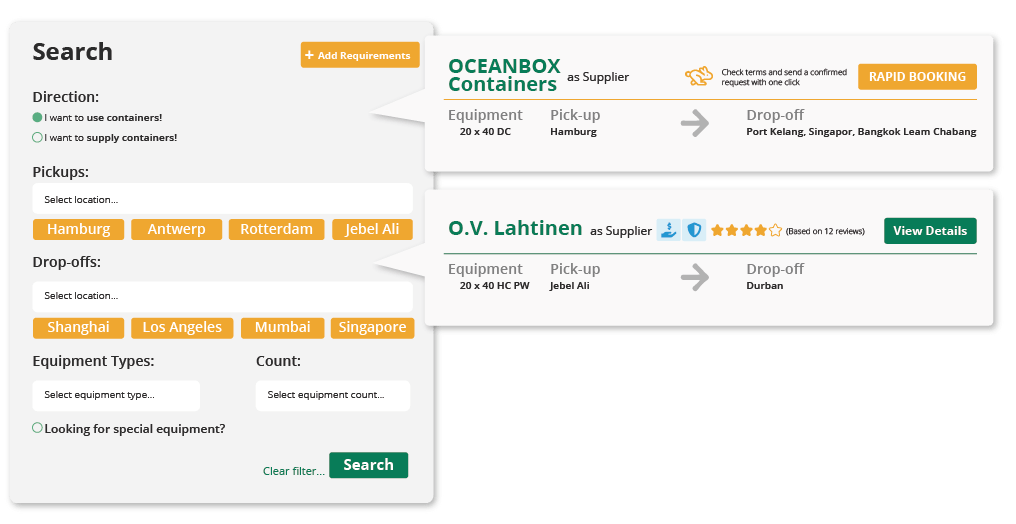 As an online platform Container xChange brings together owners of SOC containers and container users. On the platform, container users and owners can negotiate the terms of a one-way lease on as many containers as they wish. Before members of the platform can make deals on xChange, the companies undergo thorough background checks to help you find trustworthy SOC partners.
When a container owner has containers available, they make a supply request on the platform. That way container users can see whether there are available containers, where they need them. 
With the current container shortage, knowing where to look for and find containers is crucial. This is where Container xChange can be of help. With SOC containers in more than 2500 places worldwide, the online leasing platform might be the new place for you to search for containers.
Container availability in Asia
Many ports across Asia are experiencing very low container availability levels. This is, of course, a trend that also has impacted the availability on the leasing platform on xChange. But with more than 600 shipping companies coming together on the platform, it's still possible to get containers in many of the ports across Asia. 
Countries as India, Singapore, and Malaysia have all experienced low container stock, making it difficult to find available boxes. On xChange, container owners still show available containers in those three countries. That includes the ports dealing especially with shortages such as Port Kelang and Port of Singapore.
Need containers here? Check out our public search below and see how many containers are available 👇
However, the ports in China have the highest number of requests from container owners, who want to supply containers. 
Containers in China
On xChange, container owners have around 300 supply requests waiting, where they have available containers in China. The wished drop-off locations for these containers are mostly in the U.S and Northern Europe, including the United Kingdom. 
Below are some of the stretches that currently have the most requests for supplying containers between China and the U.S. on xChange:
Shanghai – Long Beach

Shanghai – Salt Lake City
Qingdao – Denver
If you're looking for containers in China to ship cargo to the U.S., the ports of Qingdao and Shanghai have the highest amount of supply requests from container owners at the moment.
Need to move cargo from China to Europe? These are the stretches with the most requests for supplying containers between China and Europe:
Shanghai – Hamburg

Port of Shanghai – Antwerp
Shanghai – Rotterdam
On xChange, especially the Port of Shanghai, has supply requests from container owners who want to move their containers to Europe.
Do you want to see if there are any containers available where you need them? Try out our public search below. All you have to do is type in your pick-up and drop-off locations, within seconds, you'll get a list of available containers matching your needs.