Container depots occupy an important part in the global supply chain. They manage the smooth flow of cargo for the shippers, shipping lines and forwarders and leasers in general. The container depot is contracted to consolidate the goods which are then loaded on to the ship. Apart from being a consolidation point, it is also a station for container maintenance services such as repair, cleaning or inspection. Empty containers that belong to leasing companies or shipping companies are stored here to be reused or repositioned. It is an exchange market for importers and exporters to sell or buy container assets.
A container depot can act as an extended part of the port like a satellite terminal because of its high flexibility with opening hours and access. Many times, it is a more affordable place to store containers than at the terminals at the port. When there is high congestion at the terminals, empty containers can be brought to be stored at the depot and then used for export activities. Containers that need to be repositioned can be brought to the terminal outside peak hours. Hence, the container depots act as a buffer for the terminals by storing empty containers which are a low-value activity that is taking valuable real estate at the terminals.
The container depot location is an important feature. A container depot located close to the terminals helps reduce the number of movements. Depots are located close to the ports and in hinterlands, known as inland container depots(ICDs). If it is a metropolitan area where there is high density at the terminals, container depots near the ports can respond better to the freight distribution services and can have an easing effect when it is part of the logistics chain. However, if inland depots are located close to shippers.
Container Depot Services
One of the main functions of a container depot is consolidation. Shippers bring their cargo to the depot to be packed and shipped, and loaded containers are unpacked and distributed.
Depots also help with administrative and documentation procedures.
Assist cargo owners with customs clearance.
After clearance, the container is lifted using cranes for inspection and categorised as damaged or operational.
The damaged containers are taken to the maintenance facility for repair, thorough cleanings and storage.
The empty containers in good condition are stacked separately for reuse.
Provide temporary storage facilities including reefer storage.
Arrange haulage services.
Some depots are also equipped to handle Out Of Gauge (OOG) goods which have extremely different dimensions from a standard container.

Ownership of Container Depots
Container Depots can be owned by the state, private or private-public. In Europe and North America, different parties take up ownership such as port operators, rail companies, shipping companies. When it comes to Asia, India and China are mostly state-owned, especially the container depots in India are managed by the Container Corporation of India (CONCOR). ICDs in East Africa mostly fall under the private sector even though private-public partnerships are encouraged
List of Container Depots in our top Locations  
Here you find a list of Container Depots in the top 20 transacting locations on the xChange platform. It is common that shipping lines are in contract with hundreds of container depots around the world to have a wider customer base and to help their customers be flexible.
| Port | Country | Depot Name | Depot website | Capacity |
| --- | --- | --- | --- | --- |
| Port of Antwerp | Belgium | DR Depots | https://dr-depots.com/ | 23,000 TEU |
| Port of Rotterdam | Netherlands | DR Depots | https://dr-depots.com/ | 20,000 TEU |
| Port of Shanghai | China | Donghwa Container | http://www.donghwa.com.cn | 53,000 TEU |
| Port of Hamburg | Germany | Progeco Deutschland GmbH-Ellerholzdamm | http://progeco-hamburg.de/ | 120 TEU/day |
| Port of Genoa | Italy | Gruppo Spinelli | https://www.gruppospinelli.com | 10,000 TEU |
| Port of Qingdao | China | Ocean & Great Asia Logistics Co.,Ltd | http://www.yydy.com | – |
| Port Klang | Malaysia | Eng Kong Holdings Pte Ltd. | http://www.engkong.com | – |
| Port of Ningo | China | Ningbo Victory Cntr Co., Ltd. | http://www.nvcl.com.cn/ | 30,000 TEU |
| Port of Nhava Sheva | India | Bay Container Terminal Pvt | http://www.bctdepots.com/ | – |
| Port of Singapore | Singapore | CWT Integrated Pte Ltd | http://www.cwtlimited.com/ | – |
| Port of Tianjin | China | Tianjin Keyun International | http://www.keyun.com | – |
| Port of Jakarta | Indonesia | Pt. Tungya Collins Terminal | http://www.tungya.co.id/ | – |
| Port of Dalian | China | Dalian Singamas International Container | http://www.singamas.com/en-us/depots/detail/2 | 16,000 TEU |
| Ho Chi Minh Port | Vietnam | Greating Fortune Container HCM | http://www.unigreating.net/ | – |
| Port of Barcelona | Spain | Recomar S.A. | http://www.recomar.com.ar/ | – |
| Port of Valencia | Spain | Trans-Base Soler, S.L. | https://www.transbasesoler.com/ | – |
| Port of Karachi | Pakistan | Hussain Trading Agencies (Pvt) | https://www.hussaintrading.com/ | – |
| Port of Mundra | India | Bay Container Terminal Pvt | http://www.bctdepots.com/ | – |
| Port of Livorno | Italy | Autamarocchi S.p.A | https://www.autamarocchi.com/en/ | – |
| Port of Hong Kong | Hong Kong | Container System Ltd. | http://www.container-sys.com/frames_e.htm | 30,000 TEU |
Are Inland Container Depots (ICD) and Container Freight Stations (CFS) the same?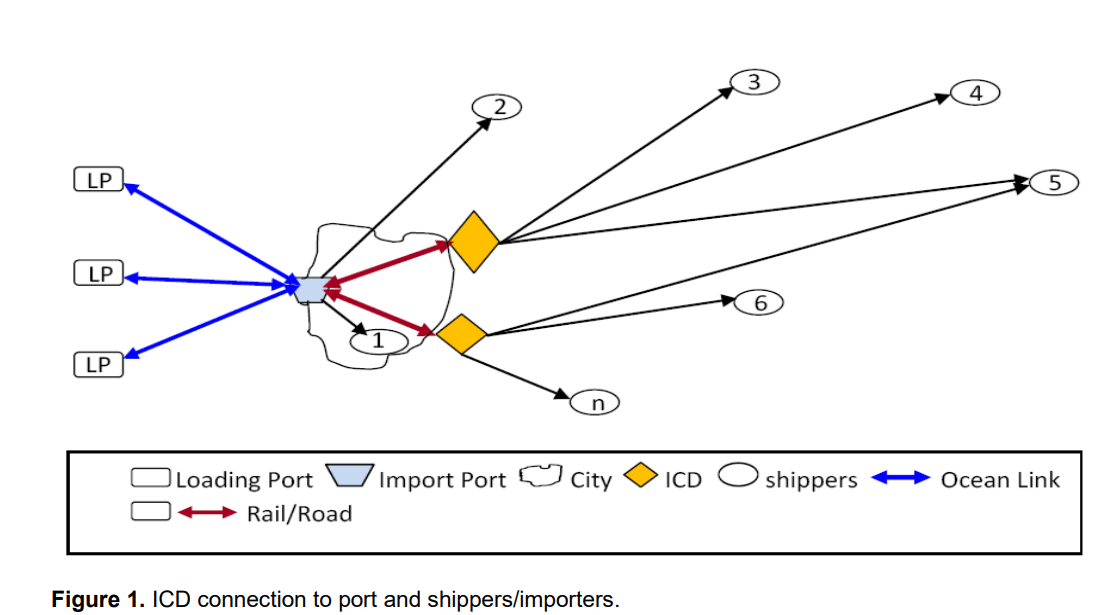 Many exporters, importers, shipping lines and customs officials see no distinction between ICD/CFS as both functions as consolidation points. In most cases, the CFS is located close to the port of entry and stores the cargo that does not completely fill the containers and waits for other cargo to fill it up. So, it mostly deals with LCL cargo. CFS helps with decongesting the ports. These stations are also connected to rail or road transport.
On the other hand, the ICD is in the hinterlands away from the ports they serve. They mostly serve FCL cargo and can also be connected to road and rail transport. While CFS is closely associated with the port, the ICD is a separate entity by itself having the same authority as a Customs station.
Summary
Article Name
Container Depot Processes explained - Container xChange
Description
Container depots manage the smooth flow of cargo, consolidate goods, and container maintenance. Container Depots can be owned by the state, private or public.
Author
Publisher Name
Publisher Logo