Need a container repair? Get started with transparent damage claims and container insurance.
Looks like your container is in need of a repair since you ended up here. We understand it can be overwhelming to keep your containers always in a ready-to-use condition. If not taken care of, container damage is inevitable and leads to a huge financial loss.  
Get your hands on a pocket-friendly container insurance and see how xChange makes it easy for you to claim your damages.
Already an expert on container damage and just looking for a solution? Jump straight down to it right here!
Reasons why containers get damaged
To keep a shipping container up and running, container repair and maintenance is a significant aspect. Before we look at what you can do if the accident happens and how you can prepare yourself beforehand, let's understand why a shipping container suffers damages. Some of the reasons are:
   

Material overstressing

leads to container folding or bending. It happens especially during the stacking or stowing process.

    Loading and unloading of cargo by

inexperienced forklifters

.  

   

Wrong choice of container

for a said cargo. If it's too bulky or a misfit for the chosen container.

   

Overloading or uneven distribution of cargo

contributes to physical damage of a container.

   

Extreme weather conditions

at the sea lead to corrosion and rusting of containers.

   

Container contamination

due to bad smell or pests from the previous cargo.
Unexpected accidents call for preparedness. Insuring your containers can save you from burning a hole in your pocket and a lot of your time. Now you may be thinking that insuring your containers will actually burn a hole in your pocket. But with the xChange insurance, you won't have to worry about that. 
Get your containers insured for total loss costing you between USD $2.50-4.10 per container for 60 days (depending on container type). If you're only looking for container damage insurance, you can get it for USD $12-140 per container for the first 60 days (depending on container type).
Container repair examples
1. Rust removal
Due to the rigorous usage and exposure to extreme weather, shipping containers are prone to rust. One of the most common repair works is rust removal. For surface-level rusting, sandblasting is the best way to remove it. However, if the rust develops beneath the paintwork, they're cut out and welded with a new piece of steel.
2. Repairing container floor
Shipping containers are made of plywood which over time and usage tend to wear and tear. The container floor suffers scrapping, water seepage, pressure, weight, and gouging on a regular basis, making it damage-prone. It's, therefore, common advice that you replace the flooring whenever you see any cracks. Regular inspection can help detect that.
3. Replacing door seal
A container is required to be either airtight or watertight, therefore, rubber seals on the door must be in perfect condition. You don't want to compromise on the container and the cargo inside because of a rubber seal, do you? Replacing old worn-out rubber seals is, in fact, one of the most important repair works of shipping containers.
4. Repainting container
Containers are coated with a protective layer of paint but over time it tends to lose effectiveness. A slight dent can chip away the paint. Thus, regular touchup is necessary to avoid flaking and rusting. 
5. Patching holes & fixing cracks
Rusting as well as damage due to external pressure can lead to holes and cracks in a container. And it is important to identify these spots and repair them immediately.
6. Reefer container repair
When it comes to a reefer container repair, door seals and inspection of rust spots are essential. Inspection and repair of the refrigeration unit are a must. This will reduce the running cost and also help with energy efficiency.  
Apart from the above common container repairs, it is essential to understand that containers are vulnerable to pests and termites. This is common because of the nature of cargo being transferred throughout the year. Thus, container fumigation is an absolutely essential part of the repair process.
So, don't just settle for a facelift, your container needs more than just a paint touch-up or fixing the door seal. Ensure your containers today and claim for all damages that aren't under your control.  
Container repair and maintenance solution – a tool you need
In such circumstances where container damage is inevitable, container Maintenance and Repair (M&R) solutions come in handy.
Container repair can be heavy on the pocket and many times shipping companies end up paying a huge sum of money without it being their fault. This is where M&R software comes to the rescue!
An M&R is an effective and efficient tool for both shipping companies and vendors. It's an integrated platform that automates and streamlines the entire repair and maintenance process. It allows one to supervise the whole procedure and improve communication and eventually reduce the repair cost.
Using an M&R solution helps you get a closer look at the exact damage portion. It cuts down the downtime of the equipment and tracks the repair job in real-time. An M&R solution helps improve your overall business efficiency.   


Want to claim for container repair? Container xChange can help
Container damage is an unavoidable part of the shipping process. However, it's never too late to claim those damages. xChange makes it easy, efficient, and fast when it comes to claiming your damaged containers. So, yes, settling a repair claim is no more a cumbersome and lengthy process.
As a member of xChange, there are two ways you can deal with container repairs and costs. Some of it you can do with just a couple of clicks.
1. Damage Protection Plan (DPP)
xChange provides DPP which helps you to compensate for the usual maintenance and repair of the container. It's the supplier who pays for the DPP. If you've opted for insurance at xChange, it'll cover any cost higher than the DPP. The damage protection plan is helpful when you don't want to go through the hassle of damage assessment every time. DPP takes care of repair costs if it falls under the agreed amount.  
2. Damage insurance
If you opt for container damage insurance, you needn't spend sleepless nights anymore. Damage insurance covers a wide range of risks and gives security to your containers. And the best part is you don't have to take the stress. xChange takes care of the entire process – ensuring you a complete hassle-free repair damage experience.  
Container damage is an inevitable part of the shipping business and it depends on many factors. Having said that, periodic inspection and timely repair can save you a lot of downtime and of course, a lot of money.
Related Posts
Summary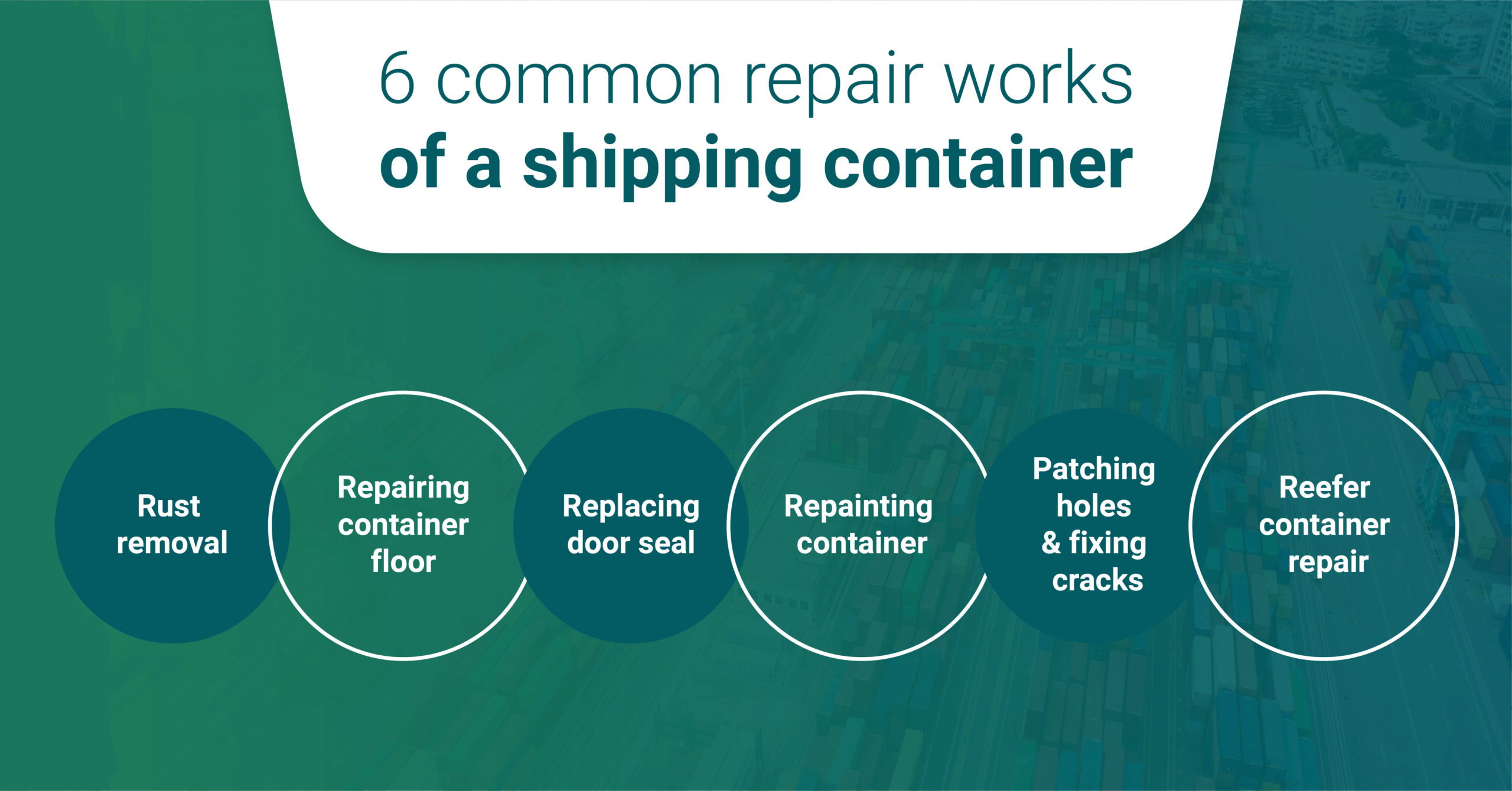 Article Name
Need a container repair \01f6e0\00fe0f ? Claim damages & repair with ease
Description
Need a container repair? Get started with transparent damage claims and container insurance.
Author
Publisher Name
Publisher Logo