Shipping containers have transformed the logistics industry over the last decades! There are more than 20 million containers around the world, and the world container fleet is growing by 3.9% every year. Not only do containers keep the cargo safe, but they have also increased the cargo capacity extensively.
The ISO has standardized the manufacture of shipping containers to make it suitable for international shipping. The standards include classification, dimensions and ratings. As a result of standardisation, we have 20-feet and 40-feet containers along with other standard varieties.
The three most common raw materials that container manufacturers are steel, flooring and paint.
Steel: In the last couple of decades, mild steel and Corten steel were used. But these days, Corten Steel dominates the industry because of its corrosion-resistant quality. It is also known as the "weathering steel". When exposed to air and water, it oxidises and prevents corrosion.
Flooring: Earlier, oak was used in flooring. But today, hardwood plywood is used for the flooring. Oak trees take a long time to grow and are therefore not a conventional option. Bamboo grows relatively fast and is a futuristic option.
Paint: The choice of paint is important as it influences the ageing and rusting. The quality of the paint has improved a lot. Three things to take care of here is the thickness of paint, the ZINC rich primer which prevents corrosion and the undercoating of the container.
Below is a breakdown of Container manufacturing cost: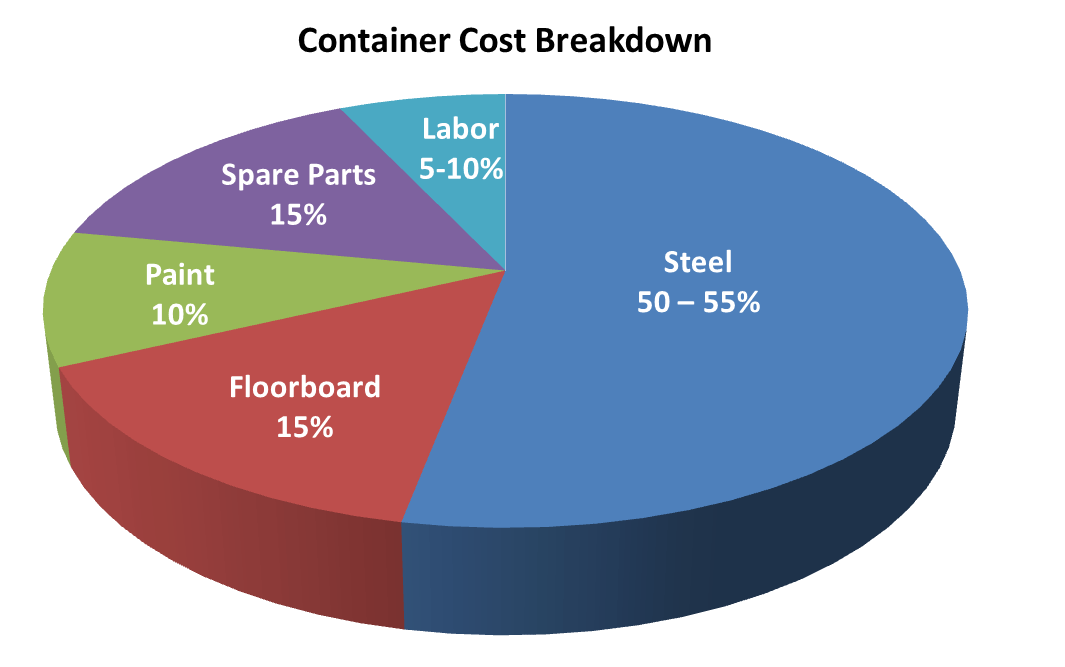 List of the biggest shipping container manufacturers globally
CIMC (China International Marine Container Group Co., Ltd.) was founded in 1980 as a merger between China Merchants Group and East Asiatic Company and is headquartered in Shenzhen, China. They have a long history as container manufacturers and provide all type of containers ranging from Dry Containers to Modular Container homes, with target markets in North America, Asia and Europe. CIMC has 11 factories and has an annual capacity of 2 million containers and it is the first company to reach the mark of 2 million TEUs internationally.

SINGAMAS (Singamas Container Holdings Ltd.) was founded in 1988 with their first factory in Shanghai. They are one of the leading container manufacturers coming from China. They have 9 factories located in China and this strong infrastructure helps them produce dry freight containers, collapsible flat-rack containers, open-top containers, tank containers, offshore containers and other specialised containers. It has an annual capacity of 980,000 TEU. Singamas had record revenue of $1.7 billion in the year 2018. It was recently revealed that Singamas is selling 4 of its 5 manufacturing facilities to COSCO Shipping Financial Holdings. After this deal, Singamas annual capacity will be halved to 480,000 TEU.

CXIC (CXIC Group Containers Co., Ltd.) was founded in 1996 in Changzhou, China. It is a privately-owned enterprise specialised in container manufacturing. The company has a manufacturing capacity of 800,000 TEUs per year. They produce dry Cargo containers, special containers, tank containers and 90% of their production is exported to 40 countries. The company has assets worth $1 million including $300,000 in fixed assets.
CEC (China Eastern Containers) is a growing container manufacturing company in China with target markets in North America, Europe, Asia, Australia and the Middle East. With their headquarters and factory located in Shanghai, they have an annual production capacity of 150,000 TEU. Their products include Shipping containers, Heavy Duty storage container, Offshore Containers and Specialty Containers.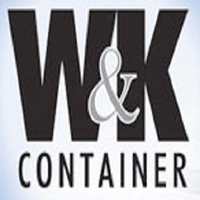 W&K Container Inc. is a container manufacturer in California, the USA since 1995. With 25 years of experience in the industry, they are approved contractors of the US Federal Government and Military. They supply to local and municipal governments and the private sector.
Daikin Transportation and Refrigeration Systems Division is a part of the Daikin Industries Ltd. Which was founded in 1934 and is headquartered in Japan. They were one of the frontrunners of the industry to enter the market with refrigerated containers. With their innovation Daikin LXE10E, they increased their customer base by 1000% by 2010. They supply containers to more than 50 shipping and leasing companies. Daikin had revenue of $21.606 billion in the financial year 2017.

MCI (Maersk Container Industry) is not just one of the biggest shipping lines but also manufactures containers specialising in reefer and refrigeration containers. They have developed the most energy-efficient reefer container called the 'StarCool'. They had factories in South America and China and since 2018 they have consolidated their operation to just two facilities in China for reefer and dry containers and R&D and test facilities in Denmark. Hapag-Lloyd recently placed a record-breaking order of 13,420 reefers with Maersk which includes 970 20-feet and 12,450 40-feet containers.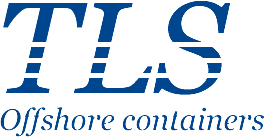 TLS Offshore Containers International Pvt Ltd is a company that specialises in offshore containers and special containers. They set up their manufacturing base in 1995 in Singapore and is one of the largest container manufacturing bases. They have a global target market with clients in Asia, Europe, South America and Australia. It is notable that TLS buys their parts from Daikin to build their reefer containers.

YMC Container Solutions is a company headquartered in the UK, manufacturing shipping containers along with a variety of multi-purpose containers. They have two manufacturing facilities, one located at Brandesburton and one at Wakefield

 DCM Hyundai Limited (DHL) was established in 1993 and is a joint venture between DCM Shriram Industries and The Hyundai Group of Korea who are world leaders in container business. They have a state-of-the-art facility in Faridabad, located close to New Delhi. They also produce trailers, tippers, containerised bodies for white goods.
Summary
Article Name
Biggest Container Manufacturers of the World
Description
Shipping containers have transformed the logistics industry over the last decades! There are more than 20 million containers around the world, and the world container fleet is growing by 3.9% every year. Not only do containers keep the cargo safe, but they have also increased the cargo capacity extensively.
Author
Publisher Name
Publisher Logo